Shipping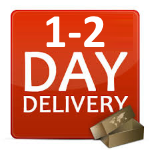 Delivery in 1-2 days (within UK)
Orders placed before 2PM GMT will be dispatched the same working day
Overseas delivery times will vary depending on the destination
---
Please note that our offices are closed on weekends, so any orders placed after 2PM GMT on Friday will not be dispatched until the following Monday.
Orders with a total value over £300.00 will be dispatched free via a next day delivery service within the UK at no extra cost.
Please note that in some instances, orders for heavy items may take an extra day to arrive.
For overseas deliveries, please refer to the following estimated delivery times:
Europe: 3 - 5 working days
Rest of the world: 5 - 7 working days
Returns
A full refund or exchange will be given provided that the items have not been worn or used, and are returned to us within 14 days of purchase, together with all relative labels and packaging.
Please ensure that you include a copy of your invoice, along with an explanation of why you have returned your goods. If you wish to return your goods for any reason, please do so to the following address:
Woodlore Limited
PO Box 3
Etchingham
East Sussex
TN19 7ZE
United Kingdom
Product Reviews
1 of 8

A good file, but tiny and not really worth the money.
2 of 8

Looks well made. Haven't had the need to use it yet - bought it in case. 5 stars because it's Gransfors and their axes are excellent, as will this be I'm sure.
3 of 8

A great size file that will allow you to cut back your axe and keep using it for years to come.
4 of 8

Haven't used it yet, but it is a cute small file, with a nice leather sheath. Maybe a bit expensive for what it is, but it will last a long time, and taking good care of the tools is important so...
5 of 8

Excellent tool for sharpening my axes, neat leather sheath. Item arrived very quickly, great web site, excellent service, very happy.
6 of 8

Nice little file with a good safety block of wood and a great little leather sheath.
7 of 8

Great item, a must have for anyone who has an axe or knife and wants to keep it in tip top condition.
8 of 8

A great small file to carry about. With a well designed wooden handle and a quality leather sleeve.
Share your opinion!
Let other people know your thoughts on this product.
Sorry, your notification details are not valid
We require both your name and a valid email address.
Sorry, your notification details are not valid
We require one or more sizes, your name and a valid email address.
Thank you
Your re-stocking notification has been accepted.
Item Added to Basket
x Gransfors Bruks Axe File added