Shipping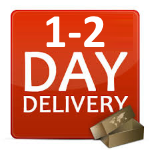 Delivery in 1-2 days (within UK)
Orders placed before 2PM GMT will be dispatched the same working day
Overseas delivery times will vary depending on the destination
---
Please note that our offices are closed on weekends, so any orders placed after 2PM GMT on Friday will not be dispatched until the following Monday.
Orders with a total value over £300.00 will be dispatched free via a next day delivery service within the UK at no extra cost.
Please note that in some instances, orders for heavy items may take an extra day to arrive.
For overseas deliveries, please refer to the following estimated delivery times:
Europe: 3 - 5 working days
Rest of the world: 5 - 7 working days
Returns
A full refund or exchange will be given provided that the items have not been worn or used, and are returned to us within 14 days of purchase, together with all relative labels and packaging.
Please ensure that you include a copy of your invoice, along with an explanation of why you have returned your goods. If you wish to return your goods for any reason, please do so to the following address:
Woodlore Limited
PO Box 3
Etchingham
East Sussex
TN19 7ZE
United Kingdom
Product Reviews
1 of 104

I'm very happy with my purchase. This is a really great axe.
2 of 104

Very good quality and craftsmanship. Cannot see how this product could be improved upon. Best to watch the videos on YouTube by Ray Mears showing how to use an axe properly beforehand. For example, making sticks from a log as kindling is much easier and safer if you take on board Ray's advice.
3 of 104

The Small Forest Axe is a product which isn't too heavy to wield, so it can be used by many people easily. It has a very nice balance. The axe head and handle are very well constructed, sturdy, strong, of high quality materials, and will be of use for many years. I would recommend this product.
4 of 104

A great little axe. I bought the Small Forest Axe for my husband, but kept borrowing it, so I had to get one for myself. It is of fantastic quality and a joy to use. Would thoroughly recommend it.
5 of 104

This axe is superb, the quality in the sheath was also surprising to me. Came very sharp and the handle met my expectations for grain pattern and tightness. I am really impressed as well of the service by Harvey and the team at Woodlore that sold me this axe. Very friendly and professional service from a great company.
6 of 104

This axe arrived on time (as promised by customer service) for my husband's birthday. He was thrilled with the quality and couldn't stop smiling when he opened it. We've read many reviews stating that these are as sharp as a razor and didn't believe it until we saw for ourselves... As he placed the leather sheath back on the axe the blade just barely touched his finger and completely laid it open! We were amazed. (Of course, there was no permanent damage, he was more excited at how sharp it was than he was concerned about his finger.)
7 of 104

I bought this Small Forest Axe and had it shipped to Colorado, USA and the axe arrived in pristine condition (the box wasn't so lucky). It feels really comfortable in the hands and although it is fairly small and portable it still has enough length and weight to get some good leverage behind it. So far it has kept its factory edge very nicely (it was shaving sharp so there was no need to touch up the factory grind - that says something about Granfors Bruks and the products they make). Overall I am very satisfied and would highly recommend this anyone that needs a versatile, powerful, and portable axe. Nicely done. And thank you raymears.com for providing these. The Ray Mears Bushcraft logo on the handle is a nice bonus too!
8 of 104

Fantastic piece of equipment. I've been considering buying this axe for some time but was slightly put off by the price. But straight from the box and as sharp as a razor you could see that it was a quality hand made tool, and now that I've used it a couple of times I can say that it's well worth every penny and a great investment which I'm sure will last a long time. The axe was delivered to my door (I stay on an island on the west coast of Scotland) within thirty six hours of me placing the order.
9 of 104

Great axe, again a lot of homework to find the right one. Great size of handle for chopping, plus well-balanced when detailing. Added bonus - the person that made mine has the same initials as me, so they stamped MB on it.
10 of 104

Good to handle and stays very sharp, if you handle it properly. Good to use with two hands. I love it, it's my baby.
Share your opinion!
Let other people know your thoughts on this product.
Sorry, your notification details are not valid
We require both your name and a valid email address.
Sorry, your notification details are not valid
We require one or more sizes, your name and a valid email address.
Thank you
Your re-stocking notification has been accepted.
Item Added to Basket
x Gransfors Bruks Small Forest Axe added