Shipping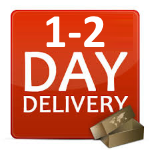 Delivery in 1-2 days within the United Kingdom
UK Orders placed before 2PM GMT will be dispatched the same working day
Overseas delivery times will vary depending on the destination
---
Please note that our offices are closed at weekends, so any orders placed after 2PM GMT on a Friday will not be dispatched until the following Monday.
Orders with a total value over £300.00 will be dispatched free via a next day delivery service within the UK at no extra cost.
Please note that in some instances, orders for heavy items may take an extra day to arrive.
---
Overseas deliveries
For overseas deliveries, please refer to the following estimated delivery times:
Europe: 3 - 5 working days
Rest of the world: 5 - 7 working days
Returns
A full refund or exchange will be given provided that the items have not been worn or used, and are returned to us within 14 days of purchase, together with all relative labels and packaging. You are responsible for the cost of returning items.
Please ensure that you include a copy of your invoice, along with an explanation of why you have returned your goods. If you wish to return your goods for any reason, please do so to the following address:
Woodlore Limited
PO Box 3
Etchingham
East Sussex
TN19 7ZE
United Kingdom
Reviews
---
1 of 144

Great little light weight axe. Slimmer profile than the wetterlings.
David Mackey
31st October, 2017
2 of 144

Should you ever question if you need to invest in a Gransfors axe then don't. This product is a superb tool, perfectly balanced, a pleasure to use and a solid investment that out performs all of the other brands.
3 of 144

This is a very good axe indeed. Thanks Woodlore.
Zhao Jian
30th September, 2017
4 of 144

Fit and finish are great. There came very sharp straight out of the box. I use it on a daily basis now to make spoon blanks. The weight is perfect for small to medium chopping jobs. I love this axe and highly recommend it, you can't go wrong.
Jeffrey Sawyer
15th September, 2017
5 of 144

A very good Gransfors Bruks Axe!
Zhao Jian
11th September, 2017
6 of 144

This is a really nice axe to use as it fits in the hand very snugly and has a sufficient reach to enable you to use it without over-stretching. I'm clearing some leylandi trees in the garden and it is proving a pleasant experience with this axe. Be aware that it arrives in a very sharp condition ready to use so be careful! The leather case appears quite durable and fits properly.
Bruce Glithero
8th September, 2017
7 of 144

This is the second time I have purchased a quality product from Ray Mears/Woodlore and both times have been excellent. Right the axe! Well what can i say, it's a beautiful bit of kit, sharp as a knife, well balanced, ergonomically perfect for me and that forged axe head just looks the business. I bought this axe after much research and watched many reviews and I am certainty not disappointed. Many thanks to the Woodlore team. Davy H.
David Hunter
18th August, 2017
8 of 144

Great axe and great price from Ray Mears!
Paul Spence
14th August, 2017
9 of 144

Mighty fine axe. I have nothing bad to say about it. I really can't fault it, believe me I tried. It's a super chopper and works very well as a splitter too, I have spilt up to 10 inch diameter dead pine tree in the middle of the summer. Yes, it took a few swings but I'm new with an axe and it was fairly easy. It holds its sharp very well. Extremely useful camping tool that I will never leave behind. I like that the handle doesn't have a heavy coat of varnish on it if there is any. I like to treat the handle myself so a little light sanding was only needed in order to apply my boiled linseed. Good size to stick in a backpack too and not heavy to way you down while hiking over long distance. It is only my first axe I have owned but I researched and found this. I don't think I will ever be buying another axe. I am very pleased with Gransfors Bruks and I think the price is reasonable. I am so glad I didn't buy cheap. I am grinning while writing this, I just love it and can't wait to hit the trails again just to use it. Also off the topic of the axe itself but I feel is still relevant is that it came quickly and very safely packaged with plenty of bubble wrap and a very nice little box appropriate size to the item received, which I hate to see a small item in a box 6 times its size. Well done Raymears.com. I will be returning for more although this was my second purchase :)
Anthony Swinburne
29th July, 2017
10 of 144

Considerately packaged for shipping and of good quality. The grip to the axe head is well design to have greater control on small tasks.
Share your opinion!
Let other people know your thoughts on this product.
Frequently Asked Questions
Answers to frequently asked questions on this item can be found here. If you have a question about this product, please contact us.
Sorry, your notification details are not valid
We require both your name and a valid email address.
Sorry, your notification details are not valid
We require one or more sizes, your name and a valid email address.
Thank you
Your re-stocking notification has been accepted.
Item Added to Basket
x Gransfors Bruks Small Forest Axe added