Shipping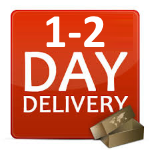 Delivery in 1-2 days within the United Kingdom
UK Orders placed before 2PM GMT will be dispatched the same working day
Overseas delivery times will vary depending on the destination
---
Please note that our offices are closed at weekends, so any orders placed after 2PM GMT on a Friday will not be dispatched until the following Monday.
Orders with a total value over £300.00 will be dispatched free via a next day delivery service within the UK at no extra cost.
Please note that in some instances, orders for heavy items may take an extra day to arrive.
---
Overseas deliveries
For overseas deliveries, please refer to the following estimated delivery times:
Europe: 3 - 5 working days
Rest of the world: 5 - 7 working days
Returns
A full refund or exchange will be given provided that the items have not been worn or used, and are returned to us within 14 days of purchase, together with all relative labels and packaging. You are responsible for the cost of returning items.
Please ensure that you include a copy of your invoice, along with an explanation of why you have returned your goods. If you wish to return your goods for any reason, please do so to the following address:
Woodlore Limited
PO Box 3
Etchingham
East Sussex
TN19 7ZE
United Kingdom
Reviews
---
1 of 16

The best money can buy. Goes through huge logs. Love it.
2 of 16

Fantastic axe; arrived shave shape and has made short work of some very knotty hardwood rounds. The finish on the wooden pole is of higher standard from Woodlore than standard ones from other suppliers and is at the perfect length to get a good swing behind the head without to much effort. After heavy use the maul still kept a great edge and with a little bit of regular sharpening is easy to maintain. Anybody who is splitting rounds on a regular basis should seriously consider investing in one as you will soon see the return in your money.
Brendan Dunn
16th January, 2016
3 of 16

Fantastic bit of kit; beautifully made and a joy to use. It really is a work of art.
Denise Greenham
26th September, 2015
4 of 16

They DO make them like they used to! Very well made, handles well and makes light work of tough rounds! Excellent service as always.
Alex Pimley
23rd September, 2015
5 of 16

Great swinger, splits well, sound solid construction, good weight and comfortable, but thats enough about me. Five stars so far. Thank you for asking.
Miketheslim
14th January, 2015
6 of 16

A magnificent axe. Heavy, ideal for splitting logs, both large and small. Well balanced and of exceptional build quality, a truly professional axe.
Geoffrey Salt
4th August, 2014
7 of 16

Purchased this for splitting wood for my wood stove. I've never split wood before but I found this maul to be very easy in use. I had some oak which was 15 inches in diameter and 10 to 12 inches in length and working from the edges in I soon had a nice pile of firewood. The Maul looks well made, nice protection around the head of the shaft and a small grip area at the base section of the handle. While it's not the cheapest Maul on the market, my experience of tools tells me you get what you pay for. I'm a gardener by trade and prefer better quality items and this may well out live me.
8 of 16

For years I've often struggled with a lightweight axe to split logs for my stove. It was often hard work and the shaft was being chewed away by colliding with logs. My new Maul is a much better tool. I purchased it when I had to split some eucalyptus which I believe can be a problem. My maul was just the job and I notice had a protective metal collar around the area chewed away on my axe.
9 of 16

The Gransfors Splitting Maul is the absoulute best at splitting logs. It has done a lot now and still looks good as new.
Clive Cummings
1st December, 2013
10 of 16

Excellent service from Woodlore, especially after a mess up by me. I already have a Granfors large splitting axe, which is a superb tool by the way, but need something heavier for the larger pieces of wood. The splitting maul is great, very easy to use with an excellent balance to it which makes it less tiring to work for a prolonged period. It made short work of some big rings of beech and sycamore the other day. All in all a good investment if you tend to spilt your own firewood. Thanks Woodlore.
Timothy Brewer
27th June, 2013
Share your opinion!
Let other people know your thoughts on this product.
Frequently Asked Questions
Answers to frequently asked questions on this item can be found here. If you have a question about this product, please contact us.
Sorry, your notification details are not valid
We require both your name and a valid email address.
Sorry, your notification details are not valid
We require one or more sizes, your name and a valid email address.
Thank you
Your re-stocking notification has been accepted.
Item Added to Basket
x Gransfors Bruks Splitting Maul added