Shipping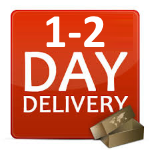 Delivery in 1-2 days (within UK)
Orders placed before 2PM GMT will be dispatched the same working day
Overseas delivery times will vary depending on the destination
---
Please note that our offices are closed on weekends, so any orders placed after 2PM GMT on Friday will not be dispatched until the following Monday.
Orders with a total value over £300.00 will be dispatched free via a next day delivery service within the UK at no extra cost.
Please note that in some instances, orders for heavy items may take an extra day to arrive.
For overseas deliveries, please refer to the following estimated delivery times:
Europe: 3 - 5 working days
Rest of the world: 5 - 7 working days
Returns
A full refund or exchange will be given provided that the items have not been worn or used, and are returned to us within 14 days of purchase, together with all relative labels and packaging.
Please ensure that you include a copy of your invoice, along with an explanation of why you have returned your goods. If you wish to return your goods for any reason, please do so to the following address:
Woodlore Limited
PO Box 3
Etchingham
East Sussex
TN19 7ZE
United Kingdom
Product Reviews
1 of 44

I feel privileged using it. Love it.
2 of 44

This is definitely the most versatile axe I've owned, it surpasses the small forest axe with more heft in the head allowing you to split longer pieces of wood with ease. No longer do I have to decide between bringing a small splitting axe or a small forest axe when I'm out on excursion. I brought this axe with me to the north shore of Lake Superior and I must say I've been in love ever since, it split maple as though it was pine . Awesome axe thanks so much I hope to do business with you again.
3 of 44

As always great service from the team. The axe itself is a great bit of kit and fits my hands perfectly with a good weight to the head. My only complaint is compared to my other Gransfors Bruks axes the leather sheath is very thin compared to the other sheaths. I know it's a minor grumble but it's a grumble never the less.. I would give the axe a five star rating but the sheath let it down
Woodlore's Reply - 5th October, 2016
Thank you for your review. We have been in touch with Gransfors who confirm that all sheaths are produced using the same vegetable tanned leather and handled in the same manner. It may be that some pieces of leather are thinner than others, but they will look into this matter and try to ensure that all sheaths produced are the same thickness.
4 of 44

The craftsmanship in the axe head is second to none . The axe handle comes a little rough for me but nothing a little sandpaper can't fix. The handle is extremely well fitted to the axe head. The cutting ability of this axe is superb. I also purchased the Ice Bear waterstones to keep this in tip top shape. 10/10
5 of 44

Now that I have done the axe work on Camp Craft this is the best there is. It is now my third Gransfors Axe and with the Small Forest Axe are a constant companion on my trips. A beast of an axe which will take down some big trees in no time at all. Love it and the quality can't be beaten. I will never be without it and my knife and buck saw.
6 of 44

Excellent piece of craftsmanship. The head and bevel are amazingly done. The handle is nice too with the Ray Mears logo on it. I wish I could buy all of the stock!
7 of 44

I love this axe. I have owned other axes before, either too big or too small but this axe is perfect in length and heavy enough to work with. The quality of the axe is as expected from Gränsfors, just excellent, and it fits perfectly together with the bucksaw. As we say in Sweden: den är aldeles lagom.
8 of 44

Woodlore does not sell junk. This is a real tool. Handmade Swedish quality - what more needs to be said? You will never be sorry you bought a Gransfors product, or that you bought from Woodlore.
9 of 44

I was looking for this axe for quite a while. I heard that there had to be an axe in between the Small Forest and the Scandinavian Forest Axe, but could not find it. Luckily I got the Woodlore newsletter and saw it was offered for a (somewhat) decent price. Somewhat decent, because Gransfors axes are cheaper over here in Holland generally, but also because I think the price on the Wilderness Axe is bit high (in comparison). Anyway, I ordered the axe and it landed here within a few days. Great applause for this great service. The axe itself is everything I expected from it. A little longer than the SFA and a great, heavier head. Great to fell some smaller trees and, thanks to the weight, a better bite than the SFA. Also a good size to carry in my backpack. So for splitting and felling it is doing a good job for me. Whether it will perform as good a carving job I have to find out, but I think it will do great. I'm very happy I finally got it and will use it with great joy in the coming years. Maybe even my grandsons will too.
10 of 44

Absolutely beautiful. This was a present from my wife although I got to pick it. Every bit as good, if not better, than I was expecting; uber sharp and just so well balanced and weighted, the guys at Gransfors know exactly how to make a quality product. It's good to use even one-handed, splitting, kindling or splitting logs. I'm hoping to be a good boy this year and get the maul next time to add to the collection. Overview: Volvo quality with Land Rover Defender styling. The best axe I have ever owned!
Share your opinion!
Let other people know your thoughts on this product.
Frequently Asked Questions
Answers to frequently asked questions on this item can be found here. If you have a question about this product, please contact us.
Sorry, your notification details are not valid
We require both your name and a valid email address.
Sorry, your notification details are not valid
We require one or more sizes, your name and a valid email address.
Thank you
Your re-stocking notification has been accepted.
Item Added to Basket
x Gransfors Bruks Ray Mears Wilderness Axe added