Shipping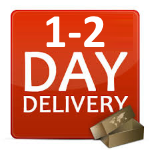 Delivery in 1-2 days (within UK)
Orders placed before 2PM GMT will be dispatched the same working day
Overseas delivery times will vary depending on the destination
---
Please note that our offices are closed on weekends, so any orders placed after 2PM GMT on Friday will not be dispatched until the following Monday.
Orders with a total value over £300.00 will be dispatched free via a next day delivery service within the UK at no extra cost.
Please note that in some instances, orders for heavy items may take an extra day to arrive.
For overseas deliveries, please refer to the following estimated delivery times:
Europe: 3 - 5 working days
Rest of the world: 5 - 7 working days
Returns
A full refund or exchange will be given provided that the items have not been worn or used, and are returned to us within 14 days of purchase, together with all relative labels and packaging.
Please ensure that you include a copy of your invoice, along with an explanation of why you have returned your goods. If you wish to return your goods for any reason, please do so to the following address:
Woodlore Limited
PO Box 3
Etchingham
East Sussex
TN19 7ZE
United Kingdom
Product Reviews
1 of 51

Great trousers. Amazing service from RM - great price!!
2 of 51

These trousers are great - I bought them for my husband who just loves them. Despite the material being tough he says they're really comfortable and a good stylish fit. Customer services efficient too. Will definitely order from this site again.
3 of 51

For years I have baulked at the price. But every person I met who had these just raved about them. I thought it was just hype! But too be fair I bought a Fjallraven sleeping bag stuff sack 30 years ago and it still works fine. But these trousers WOW. The fit great for my 40 inch waist the fit on the legs great. Ok you have to sew them to length. I was worried about a so called slim fit, nope their great. The waxed finish is superb been out on my knees photographing damsel flies this morning no restrictions and stayed dry through the dew. I hate wearing over trousers and these put off that moment for much longer. As good as expensive soft shells! Tough they certainly seem to be like a wax jacket for legs but not restrictive. The left leg pocket swallows an OS map with ease the right leg at a push. Brilliant kit and at this price, the lowest I found, and Woodlore s delivery service as always excellent . Dont hesitate buy them.
4 of 51

These trousers are my first Fjallraven product and I am very pleased with them. All the reviews I read gave the Barents Pro trousers high praise and I have to agree. I had expected wax impregnated trousers to be a bit stiff but they are not, they are very comfortable even in warm weather, the breathability is better than on other walking trousers I have and they will stand up against moderate rain (unlike two pairs of Durable Water Repellent trousers I have - both very well known and expensive brands). The style and fit is just right, especially as the legs come raw length allowing finishing to length to suit the individual, and the range, placing and size of pockets is good. I would definitely buy again.
5 of 51

As mentioned by others, the leg length is supplied over long to be reduced as required but this is easily done by any of the garment altering sevices on the high street. Having worn the trousers this weekend in some fairly warm weather I would say they would suit cooler days better as the doubtless very effective wax waterproofing seems to make them breath a little less than I would otherwise like (this may improve after the first wash). Overall, very well made with plenty of well placed and sizeable pockets (except for back pockets which are strangely absent). Expensive, but very good quality.
6 of 51

Great service as always from the Woodlore team. I'm a 38' waist and the (38) which is listed as a 37 on the trouser label fits me with a loose fit but I wear a belt so that's fine.
7 of 51

Great trousers. Really pleased with them; not at first, but they really did grow on me. Brilliant trousers, very heavy duty.
8 of 51

Bought these for my son as a Christmas present; they are great quality as you would expect from Ray Mears and he is delighted with them. As usual with everything purchased from the Woodlore website, fast efficient service and excellent quality goods.
9 of 51

The trousers arrived and, having purchased Fjallraven products before, I couldn't wait to try them on for fit and comfort. All I can say is that the Swedish men must have grown into giants. The waist (30 inches) fitted well and I was well impressed by the standard of work in the stitching and cut, pockets generous and plentiful. But the leg-length is overwhelming! I am what you might call a compact sized stature, and after turning the material up for the leg-length I require I had 25 or so centimetres of material left. I am thinking of making a pair of shorts. In actual fact what I am going to do is have a tailor use the excess material to sew on a pair of hip pockets, as this model does not come with any. Al I can think is that Swedish men living in northern climes must grow taller than average as they attempt to reach the feeble sunshine they get in the winter months. Apart from that little quibble I am happy with my purchase.
10 of 51

Trousers come with unfinished hems which, being tall, allowed me to get the length just right. I work outside on a market stall and the first day was wet and cold. The trousers kept me warm and dry plus the multitude of pockets are really useful. I know these are expensive but I already have other Fjallraven clothing and they just go on and on.
Share your opinion!
Let other people know your thoughts on this product.
Sorry, your notification details are not valid
We require both your name and a valid email address.
Sorry, your notification details are not valid
We require one or more sizes, your name and a valid email address.
Thank you
Your re-stocking notification has been accepted.
Item Added to Basket
x Fjallraven Barents Pro Trousers - Dark Olive added