Shipping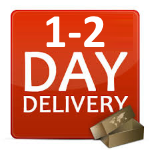 Delivery in 1-2 days (within UK)
Orders placed before 2PM GMT will be dispatched the same working day
Overseas delivery times will vary depending on the destination
---
Please note that our offices are closed on weekends, so any orders placed after 2PM GMT on Friday will not be dispatched until the following Monday.
Orders with a total value over £300.00 will be dispatched free via a next day delivery service within the UK at no extra cost.
Please note that in some instances, orders for heavy items may take an extra day to arrive.
For overseas deliveries, please refer to the following estimated delivery times:
Europe: 3 - 5 working days
Rest of the world: 5 - 7 working days
Returns
A full refund or exchange will be given provided that the items have not been worn or used, and are returned to us within 14 days of purchase, together with all relative labels and packaging.
Please ensure that you include a copy of your invoice, along with an explanation of why you have returned your goods. If you wish to return your goods for any reason, please do so to the following address:
Woodlore Limited
PO Box 3
Etchingham
East Sussex
TN19 7ZE
United Kingdom
Product Reviews
1 of 300

Really soft and warm. The double construction makes it especially comfortable.
2 of 300

This is my third Possum fur and Merino Beanie hat and wouldn't be without it in the winter. It is a fantastic product, incredibly warm and looks good.
3 of 300

This is so much better than your normal wool hat, it's unbelievably soft, stretchy and breathable and does not make your head itch, just fantastic, simple, effective kit.
4 of 300

Absolutely wonderful! I shaved my head and this arrived, saving my wee head from the cold Scottish winds! Countless compliments on its softness, doubles up as a great pillow with a top stuffed inside. Really cannot fault the blend of merino and possum plus the design means it will fit almost any head size!!! Cheers :-)
5 of 300

Fantastic hat to keep your head warm. I have only used it a few times but when warmth is needed this is a much needed piece of kit. I am looking at buying another.
6 of 300

Warm, cosy and soft. Very pleased with my purchase.
7 of 300

Lovely and warm beanie. Marginally itchy, but I do have a sensitive forehead!
8 of 300

Lovely warm hat, very happy. Not itchy to wear and very warm.
9 of 300

Great beanie, super soft and really comfortable. Only drawback is that for biking in cold conditions, the beanie is a bit too loose and some wind blows in to my ears. Maybe I can fix that with a small rubber string? For everybody moving more slowly, this is a dream of a beanie. Go for it!
10 of 300

I've been looking for a warm hat for a very long time. After trying many different hats from many different vendors, I believe that search is over. Not only is this hat extremely comfortable to wear, it has no itch like you typically find in wool products. It's very warm and large enough to be doubled over if needed. Definitely recommend this hat to anyone looking for a comfortable and warm winter hat.
Share your opinion!
Let other people know your thoughts on this product.
Sorry, your notification details are not valid
We require both your name and a valid email address.
Sorry, your notification details are not valid
We require one or more sizes, your name and a valid email address.
Thank you
Your re-stocking notification has been accepted.
Item Added to Basket
x Possum Fur and Merino Wool Beanie Hat added