Shipping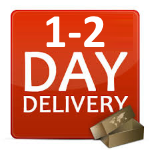 Delivery in 1-2 days (within UK)
Orders placed before 2PM GMT will be dispatched the same working day
Overseas delivery times will vary depending on the destination
---
Please note that our offices are closed on weekends, so any orders placed after 2PM GMT on Friday will not be dispatched until the following Monday.
Orders with a total value over £300.00 will be dispatched free via a next day delivery service within the UK at no extra cost.
Please note that in some instances, orders for heavy items may take an extra day to arrive.
For overseas deliveries, please refer to the following estimated delivery times:
Europe: 3 - 5 working days
Rest of the world: 5 - 7 working days
Returns
A full refund or exchange will be given provided that the items have not been worn or used, and are returned to us within 14 days of purchase, together with all relative labels and packaging.
Please ensure that you include a copy of your invoice, along with an explanation of why you have returned your goods. If you wish to return your goods for any reason, please do so to the following address:
Woodlore Limited
PO Box 3
Etchingham
East Sussex
TN19 7ZE
United Kingdom
Product Reviews
1 of 310

I am very impressed, this product is extremely warm and comfy.
2 of 310

Gosh, for this price you could buy a Made in China , falls apart in two weeks, acrylic special! I have a large head, 61cm, so there's few beanies that fit comfortably, this does. It's snug, but there's more than enough give in the (wonderfully soft) material to ensure it fits well. The seams on top are superb, they sit pretty much flat, which is SO different to most other beanies out there which all make you look like you've got lumps on your noggin. For the price, this is a stone cold bargain. Made in New Zealand, not China, Bangladesh or Vietnam. It is a very high quality item and like I have said, fits perfectly. It also feels like it will give you many years of sterling service if looked after and washed correctly and carefully. In short, a wonderful hat. My only proviso is that I wish the pictures on Woodlore were actually pictures of hats on people outside, as the colour balance on the pictures isn't quite true - you need to cross reference with Google Images. Avoca is more a browny green, but that's fine as it is what I wanted. Oh, and I'm seriously contemplating buying another.
3 of 310

Best hat I have ever had, so warm and comfortable. Fits neatly into pocket or pack. Had one last winter, but left it on bus so just had to replace it this year. Soft, yet not itchy and washes well.
4 of 310

Weather hasn't been cold enough to test this beanie fully, seeing as it's currently spring time. But whenever I have it on, it keeps my dome absolutely toasty warm, sometimes to the point it gets borderline sweltering. The heat retention on the material is fantastic. Even after having removed it for a few minutes, you can tell there's still warmth being withheld inside the beanie. The size is a tad large though, I would like a few pointers on how to safely shrink it! Otherwise, superb hat - thumbs up!
5 of 310

Soft, warm and very comfortable. Not the cheapest but worth every penny
6 of 310

Excellent piece of kit. Warmest of all my hats and will purchasing a spare to keep it's that good. Well worth the purchase, would recommend to anyone who is serious about the outdoors.
7 of 310

A very comfortable hat. It's so soft and doesn't irritate the skin like some other hats. I would recommend.
8 of 310

This item goes well with the Swazi Nahanni shirt. It will be great during the cold winter up here in Scandinavia.
9 of 310

I have not yet worn this out in the cold but it certainly feels as if it will keep the head very warm. Very soft material.
10 of 310

A classic for good reason. Bought two and couldn't be happier with them. (I like to roll the sides twice so they wear high. Roll down over the ears when stupid cold; quiet under the hood too).
Share your opinion!
Let other people know your thoughts on this product.
Sorry, your notification details are not valid
We require both your name and a valid email address.
Sorry, your notification details are not valid
We require one or more sizes, your name and a valid email address.
Thank you
Your re-stocking notification has been accepted.
Item Added to Basket
x Possum Fur and Merino Wool Beanie Hat added