Shipping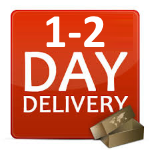 Delivery in 1-2 days (within UK)
Orders placed before 2PM GMT will be dispatched the same working day
Overseas delivery times will vary depending on the destination
---
Please note that our offices are closed on weekends, so any orders placed after 2PM GMT on Friday will not be dispatched until the following Monday.
Orders with a total value over £300.00 will be dispatched free via a next day delivery service within the UK at no extra cost.
Please note that in some instances, orders for heavy items may take an extra day to arrive.
For overseas deliveries, please refer to the following estimated delivery times:
Europe: 3 - 5 working days
Rest of the world: 5 - 7 working days
Returns
A full refund or exchange will be given provided that the items have not been worn or used, and are returned to us within 14 days of purchase, together with all relative labels and packaging. You are responsible for the cost of returning items.
Please ensure that you include a copy of your invoice, along with an explanation of why you have returned your goods. If you wish to return your goods for any reason, please do so to the following address:
Woodlore Limited
PO Box 3
Etchingham
East Sussex
TN19 7ZE
United Kingdom
Product Reviews
1 of 404

Excellent hat, will be of much use during a Scottish winter.
Pete Cork
7th October, 2017
2 of 404

First off, great service as I received this the next day. The hat is so warm. It is Very soft and I love it. I am a builder work and outside a lot. I'll be getting the team a hat each for Christmas. It's a very high quality product, I thoroughly recommend it.
Gavin Frost
5th October, 2017
3 of 404

This is by far the best wool hat I've ever bought. Warm, not itchy, light weight but feels secure on the head. It does have a slight annoyance where the double layer can become detached turning the hat into a woolly rugby ball shape at inopportune moments, but its easily fixed. Definitely on the essential list!
John Douglas
3rd October, 2017
4 of 404

I received this item today, it is made from top quality material which is very warm and comfy to wear. I will be happier going out in the cold with my new product rather than my old itchy wool hat.
Lee Musselwhite
29th September, 2017
5 of 404

Well made, very warm, very light, very good value.
G J Clifton
29th September, 2017
6 of 404

I had an old woollen hat that I've had for ages and in reviewing all my items to reduce unnecessary weight, decided to purchase this hat which was actually half the weight of my old one. The difference is amazing, the weight, the feel and the warmth. I'm so glad I bought it as it really is a comfy snug fit, especially as it's getting cold out (being Autumn in the North). I wear it when bivvying out in the woods, which I do regularly. Highly recommended.
Barry Johnston
11th September, 2017
7 of 404

It's a 5 star product for a reason and it is apparent as soon as you open the packaging. Well worth it.
8 of 404

Excellent Hat. Extremely warm and a pleasure to wear.
John Broadleday
18th July, 2017
9 of 404

Good quality, very warm but you need a staple gun in order to keep it on your head. I'm sure Mr Mears will hunt me down for only giving his favourite hat four stars but I challenge him to sleep in this without it coming off and escaping his hammock. Good hat but slippy.
Mark Blackwell
6th July, 2017
10 of 404

I really liked this hat. It is very warm and not itchy at all - very cosy.
Alyson Pickett-clough
15th June, 2017
Share your opinion!
Let other people know your thoughts on this product.
Sorry, your notification details are not valid
We require both your name and a valid email address.
Sorry, your notification details are not valid
We require one or more sizes, your name and a valid email address.
Thank you
Your re-stocking notification has been accepted.
Item Added to Basket
x Possum Fur and Merino Wool Beanie Hat added