Shipping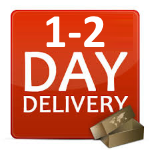 Delivery in 1-2 days (within UK)
Orders placed before 2PM GMT will be dispatched the same working day
Overseas delivery times will vary depending on the destination
---
Please note that our offices are closed on weekends, so any orders placed after 2PM GMT on Friday will not be dispatched until the following Monday.
Orders with a total value over £300.00 will be dispatched free via a next day delivery service within the UK at no extra cost.
Please note that in some instances, orders for heavy items may take an extra day to arrive.
For overseas deliveries, please refer to the following estimated delivery times:
Europe: 3 - 5 working days
Rest of the world: 5 - 7 working days
Returns
A full refund or exchange will be given provided that the items have not been worn or used, and are returned to us within 14 days of purchase, together with all relative labels and packaging.
Please ensure that you include a copy of your invoice, along with an explanation of why you have returned your goods. If you wish to return your goods for any reason, please do so to the following address:
Woodlore Limited
PO Box 3
Etchingham
East Sussex
TN19 7ZE
United Kingdom
Product Reviews
1 of 278

Very warm and soft.
2 of 278

Lovely quality, lightweight, super soft, non-itchy. I'm glad I have added it to my kit. My wife and son both want one now! I would love it if a neck tube was made of the same stuff. I bought the green one; it's lighter than in the photo, but it's no issue, I love it. Prompt delivery from the team. Many thanks.
3 of 278

Bought one and loved it. Lost it in the city, and immediately ordered another. No hesitation. My best toque ever; I wanted another. Delivery was fast, so I was only without my favorite hat for a couple of days. The hat is very soft and comfortable, warmer than most wool toques, more breathable than Polartec synthetic toques, and quite windproof. In strong winter wind I fold the hem and wear it watchcap-style. In deep Canadian cold I use the hat for high-intensity activity where I'm producing a lot of body heat, or as a primary cover under a down hood. I might otherwise take a fur hat for -30° weather, but for conditions above that temperature this is the most versatile hat I've owned. Thanks for a great product and great service.
4 of 278

Very warm, very comfy, breathes well. More suited to static activities or very cold weather. I went for a hike in mine and was too warm, which is no reflection on the hat though. Great product for the price.
5 of 278

A very soft, comfortable and warm hat.
6 of 278

Warm, light and soft and feels quality from the off. I wore it whilst walking with my dog shortly after it was delivered this afternoon and it is already a favourite item of clothing apart from my beloved boots. It was toasty and comfortable on a rainy, cold and windy January day. I am not sure how it would perform in a sustained downpour but that's why one puts one's hood up. Top marks.
7 of 278

Very light, very warm, very comfortable. Great hat.
8 of 278

Surprised at how lightweight this hat is. It's very warm, comfortable, well-made and doesn't itch. Love it!
9 of 278

Excellent purchase. Warmest hat I have ever owned! Very soft, not itchy at all. The only thing I might change is to connect the 2 layers to one another to keep them from shifting around, even with just a single stitch at the top of the hat. Still deciding whether to do so myself.
10 of 278

Light weight, soft and comfortable. Not windproof but still warm. Instant favourite. Love it.
Share your opinion!
Let other people know your thoughts on this product.
Sorry, your notification details are not valid
We require both your name and a valid email address.
Sorry, your notification details are not valid
We require one or more sizes, your name and a valid email address.
Thank you
Your re-stocking notification has been accepted.
Item Added to Basket
x Possum Fur and Merino Wool Beanie Hat added