Shipping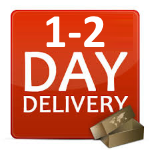 Delivery in 1-2 days within the United Kingdom
UK Orders placed before 2PM GMT will be dispatched the same working day
Overseas delivery times will vary depending on the destination
---
Please note that our offices are closed at weekends, so any orders placed after 2PM GMT on a Friday will not be dispatched until the following Monday.
Orders with a total value over £300.00 will be dispatched free via a next day delivery service within the UK at no extra cost.
Please note that in some instances, orders for heavy items may take an extra day to arrive.
---
Overseas deliveries
For overseas deliveries, please refer to the following estimated delivery times:
Europe: 3 - 5 working days
Rest of the world: 5 - 7 working days
Returns
A full refund or exchange will be given provided that the items have not been worn or used, and are returned to us within 14 days of purchase, together with all relative labels and packaging. You are responsible for the cost of returning items.
Please ensure that you include a copy of your invoice, along with an explanation of why you have returned your goods. If you wish to return your goods for any reason, please do so to the following address:
Woodlore Limited
PO Box 3
Etchingham
East Sussex
TN19 7ZE
United Kingdom
Reviews
---
1 of 29

Really happy with this, very good, strong pouch.
Malcolm Lemmon
10th June, 2017
2 of 29

A tad on the expensive side but I hoped for longevity. However, at a premium I expect it to be perfect on arrival - which it was not (material creased and stitching starting to come loose, although canvas does feel strong and zip sturdy). I reported this to Woodlore who fobbed me off. It's a shame as I've previously only ever had positive experiences here.
Dean Fitzpatrick
9th May, 2017
Woodlore's Reply - 9th May, 2017
Dear Dean. Thank you for your review. I'm sorry to hear of the quality issues regarding the Canvas Pouch which you received. Unfortunately every now and then our canvas products will crease in transit, but these creases are not long term and once the product is used these will fade. I have looked back at our email exchange and there was no mention of the stitching issues mentioned in your review. I do know that these cases sometimes have a few loose strands when they are new, however if there is a fault with the stitching then please get in contact and we can look to resolve this for you.
3 of 29

Buying the Ray Mears logo, means I get good equipment for a reasonable price.
Wilson Moore
17th March, 2017
4 of 29

Handy pouch to put items in safely and securely, either on your belt or in your pack.
Jason Paul Nock
5th October, 2016
5 of 29

Now a First Aid go to first with my main First Aid bag in rucksack which goes with me wherever I go. Love the bag.
6 of 29

I've found this pouch very useful. It's big enough to carry quite a few things on your belt, where it's easy to find and quick to get hold of, without having to take your rucksack off. It's well-made from thick canvas and is excellent value for money.
7 of 29

A nice sized pouch, quality construction, plenty of room for my fire kit, with enough extra room for a hexi stove or GPS to fit as well. The zipper is heavy duty and it should last for years.
8 of 29

Great pouch, perfect for EDC. Squeezed in: tinder, large Swiss Army knife, headtorch, tinder tin, spoon, magnifying lens, mini first aid kit, alcohol gel, fire steel x 2, small lighter, germolene, loo roll, batteries, sharpening stone and a cuddly toy! Perfect for days in the woods with the kids. Hope that helps for size/stuff reference! Good quality and excellent delivery/service. Strong and well made. A few loose ends inside but no big deal. Good value.
9 of 29

Simple but very well made, strong and will last a long time. I bought two and am very happy with them.
Alastair Nicholas Wright
20th January, 2016
10 of 29

Just the right size to hold a few essentials whilst out walking. Good build quality.
Charles Horner
26th November, 2015
Share your opinion!
Let other people know your thoughts on this product.
Sorry, your notification details are not valid
We require both your name and a valid email address.
Sorry, your notification details are not valid
We require one or more sizes, your name and a valid email address.
Thank you
Your re-stocking notification has been accepted.
Item Added to Basket
x Ray Mears Canvas Pouch added