Shipping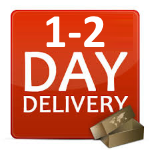 Delivery in 1-2 days (within UK)
Orders placed before 2PM GMT will be dispatched the same working day
Overseas delivery times will vary depending on the destination
---
Please note that our offices are closed on weekends, so any orders placed after 2PM GMT on Friday will not be dispatched until the following Monday.
Orders with a total value over £300.00 will be dispatched free via a next day delivery service within the UK at no extra cost.
Please note that in some instances, orders for heavy items may take an extra day to arrive.
For overseas deliveries, please refer to the following estimated delivery times:
Europe: 3 - 5 working days
Rest of the world: 5 - 7 working days
Returns
A full refund or exchange will be given provided that the items have not been worn or used, and are returned to us within 14 days of purchase, together with all relative labels and packaging. You are responsible for the cost of returning items.
Please ensure that you include a copy of your invoice, along with an explanation of why you have returned your goods. If you wish to return your goods for any reason, please do so to the following address:
Woodlore Limited
PO Box 3
Etchingham
East Sussex
TN19 7ZE
United Kingdom
Product Reviews
1 of 69

This is easy to use.
Yves Sempels
15th September, 2017
2 of 69

This is definitely the best fire stick I've owned, strikes really well.
Joshua Oriordan
23rd August, 2017
3 of 69

Works brilliantly and feels very durable. Swiftly delivered.
Mike Foster
28th February, 2017
4 of 69

This is a good thick rod, with very bright sparks.
Kevin Maule
20th January, 2017
5 of 69

This fire stick Works really well, a very useful piece of kit.
Louise Margaret Andrew
21st December, 2016
6 of 69

Out of the three fire sticks I have, this is the best one for getting a good spark.
Mccarthy
2nd December, 2016
7 of 69

This fire stick works perfectly. I just need more practice.
Adam Pearce
1st December, 2016
8 of 69

The Ray Mears Fire stick is the best quality fire stick regarding its chemical constitution in my experience. This varies wildly, others break, give fewer and cooler sparks or both. The value for money is excellent too. It also Makes a great gift. Delivery is quick as always. .
Matthew Harris
15th November, 2016
9 of 69

The best on the market by a long shot. I have 4, so bought this one for a mate as he starts out. Would not be out in the wilderness without one on me and a spare one in my kit bag.
10 of 69

An excellent quality product.
Anne Marie
27th June, 2016
Share your opinion!
Let other people know your thoughts on this product.
Sorry, your notification details are not valid
We require both your name and a valid email address.
Sorry, your notification details are not valid
We require one or more sizes, your name and a valid email address.
Thank you
Your re-stocking notification has been accepted.
Item Added to Basket
x Ray Mears Fire Stick added