Shipping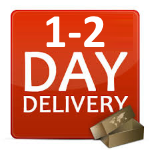 Delivery in 1-2 days within the United Kingdom
UK Orders placed before 2PM GMT will be dispatched the same working day
Overseas delivery times will vary depending on the destination
---
Please note that our offices are closed at weekends, so any orders placed after 2PM GMT on a Friday will not be dispatched until the following Monday.
Orders with a total value over £300.00 will be dispatched free via a next day delivery service within the UK at no extra cost.
Please note that in some instances, orders for heavy items may take an extra day to arrive.
---
Overseas deliveries
For overseas deliveries, please refer to the following estimated delivery times:
Europe: 3 - 5 working days
Rest of the world: 5 - 7 working days
Returns
A full refund or exchange will be given provided that the items have not been worn or used, and are returned to us within 14 days of purchase, together with all relative labels and packaging. You are responsible for the cost of returning items.
Please ensure that you include a copy of your invoice, along with an explanation of why you have returned your goods. If you wish to return your goods for any reason, please do so to the following address:
Woodlore Limited
PO Box 3
Etchingham
East Sussex
TN19 7ZE
United Kingdom
Reviews
---
1 of 20

Loud and effective. High quality lanyard included.
P. Myron
5th October, 2017
2 of 20

Simply first class service to the Channel Islands.....again. Superb packaging and lightening speed. Thanks. The item is well built, extremely loud and compact. No risk of freezing over or breaking. Solid. Recommend.
David Thomas
5th July, 2017
3 of 20

The Fox 40 Micro Whistle is by far one of the best whistles that I've ever owned and I've been buschrafting for 30 years.
John Broadleday
7th May, 2017
4 of 20

Probably the best whistle you can buy for the money.
Christopher J Anderson
23rd January, 2017
5 of 20

I got my first whistle around 2 years ago and at that time they used to sell it without a lanyard. I can get exactly the same item without Ray's logo here in the US, but as I am one of his biggest fans I got mine from Ray's store which is black and has Ray's logo on it. I find it very useful and handy. It is very loud and you can hear it from far distances. It is awesome gear and a must have.
Reza Etemad
18th November, 2016
6 of 20

Works perfectly the same and is smaller than the Tornado whistle. I always carry one around my neck and don't feel it at all. Nice item.
Christian
24th March, 2016
7 of 20

Affordable, tough, quality item. Perfect for key rings. For camping, expeditions and carrying everyday for personal safety.
8 of 20

An excellent blast! Good for attaching to the pfd ready for a river trip.
Fraser Lewis
15th June, 2015
9 of 20

Excellent whistle. Very loud and light weight. A fair price also.
John Wind De Leigh
12th April, 2015
10 of 20

Great little whistle and very good service from Woodlore again
Sioned Evans
29th January, 2015
Share your opinion!
Let other people know your thoughts on this product.
Sorry, your notification details are not valid
We require both your name and a valid email address.
Sorry, your notification details are not valid
We require one or more sizes, your name and a valid email address.
Thank you
Your re-stocking notification has been accepted.
Item Added to Basket
x Fox 40 Micro Whistle added