Shipping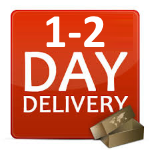 Delivery in 1-2 days (within UK)
Orders placed before 2PM GMT will be dispatched the same working day
Overseas delivery times will vary depending on the destination
---
Please note that our offices are closed on weekends, so any orders placed after 2PM GMT on Friday will not be dispatched until the following Monday.
Orders with a total value over £300.00 will be dispatched free via a next day delivery service within the UK at no extra cost.
Please note that in some instances, orders for heavy items may take an extra day to arrive.
For overseas deliveries, please refer to the following estimated delivery times:
Europe: 3 - 5 working days
Rest of the world: 5 - 7 working days
Returns
A full refund or exchange will be given provided that the items have not been worn or used, and are returned to us within 14 days of purchase, together with all relative labels and packaging. You are responsible for the cost of returning items.
Please ensure that you include a copy of your invoice, along with an explanation of why you have returned your goods. If you wish to return your goods for any reason, please do so to the following address:
Woodlore Limited
PO Box 3
Etchingham
East Sussex
TN19 7ZE
United Kingdom
Product Reviews
1 of 85

An excellent knife for the money. You really can't go wrong.
2 of 85

I bought this for my son as his first knife. Great knife very sharp out of the package
3 of 85

Easy to use, high quality and works well. Arrived very quickly.
4 of 85

Second knife bought. Great value and a great working tool. Delivery first class.
5 of 85

As a beginner I am looking to use this knife as my number one item. I am keen to explore what it can do. I used it with a fire steel; with a little wire wool I removed all the marks on the blade this process created. I used it for splitting wood for my hobo stove. From 2 x 2 foot long pieces of seasoned pine I used the knife to split it into 1/2 by 1/2 pieces. I then cut match stick size pieces for fine tinder. I used the knife to cut feather sticks. With a few wipes on a sharpening stone the extremely sharp edge was restored. I look forward to using this knife in my outdoor pursuits. A very nice knife.
6 of 85

Looking forward to using my new knife on my survival weekend. Feels very sturdy and good quality and it arrived very quickly. I cannot grumble at the service provided by the Woodlore team; I will definitely be using them again and again.
7 of 85

Excellent knife for beginners and the more experienced alike. Very sharp blade.
8 of 85

Solid, robust, cheap, sharp, lightweight. Only four stars, because, despite the right treatment, the blade has changed colour (little rusty stains) after just five days of camping.
9 of 85

Outstanding knife. Cannot fault at all, easy to get to grips with and learn new bushcraft skills.
10 of 85

Fantastic piece of kit, extremely sharp and very durable, highly recommended. Very fast delivery too, and great value.
Share your opinion!
Let other people know your thoughts on this product.
Sorry, your notification details are not valid
We require both your name and a valid email address.
Sorry, your notification details are not valid
We require one or more sizes, your name and a valid email address.
Thank you
Your re-stocking notification has been accepted.
Item Added to Basket
x Morakniv Companion MG Knife added