Shipping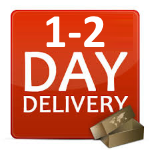 Delivery in 1-2 days (within UK)
Orders placed before 2PM GMT will be dispatched the same working day
Overseas delivery times will vary depending on the destination
---
Please note that our offices are closed on weekends, so any orders placed after 2PM GMT on Friday will not be dispatched until the following Monday.
Orders with a total value over £300.00 will be dispatched free via a next day delivery service within the UK at no extra cost.
Please note that in some instances, orders for heavy items may take an extra day to arrive.
For overseas deliveries, please refer to the following estimated delivery times:
Europe: 3 - 5 working days
Rest of the world: 5 - 7 working days
Returns
A full refund or exchange will be given provided that the items have not been worn or used, and are returned to us within 14 days of purchase, together with all relative labels and packaging. You are responsible for the cost of returning items.
Please ensure that you include a copy of your invoice, along with an explanation of why you have returned your goods. If you wish to return your goods for any reason, please do so to the following address:
Woodlore Limited
PO Box 3
Etchingham
East Sussex
TN19 7ZE
United Kingdom
Product Reviews
1 of 74

As I need. With no fault. Thanks a lot.
Baris Ersoz
28th June, 2017
2 of 74

I bought this for a close friend as a present, as I love the one I bought over 5 years ago (if my memory serves me right). The ceramic side has some changes, it is a thicker ceramic and the color of the ceramic is a very dark grey (as opposed to the dark brown in my older one). I am confident this will accompany my dear friend in his adventures in the woods and serve him as well as mine serves me. I'd also like to thank the guys and gals tending the shop for a very quick order and shipping process.
Ferhat Yilmaz Savci
19th June, 2017
3 of 74

Fantastic little double sided whetstone that comes in a leather pouch for storage. Bought it to go in my work rucksack to use with both fixed and foldable knives. Got my Swiss Army Knife blades to razor sharpness, enough to dry shave the hairs off your arm - never underestimate how useful a sharp knife is, even I was surprised how good the edge is. Cleans easily enough in warm water and a little hand soap, just make sure you dry it thoroughly and set it on some newspaper (or similar) to draw the extra moisture out of the stone as it will hold a little. My only criticism is that it is thin and any knife with a thicker handle, you may struggle to get you blade to the right angle to sharpen up and so a stand with a grippy surface would be a good investment to accompany it. I used a 10cm thick book so my hand could move with ease, but this is to be used in the field and this can be easily overcome. To summarise, a great product and would buy again (if ever needed) and a hearty recommendation.
Sam Kimsey
10th April, 2017
4 of 74

Bought this to keep my knife sharp when out. More than happy with it. It gives a sharp edge every time.
Stephen Tomlinson
12th March, 2017
5 of 74

It's a great stone, small and portable and gives my knives a good edge when out and about.
6 of 74

Seems to work fine and it's very small too.
Paul Sloan
27th November, 2016
7 of 74

A really easy to use knife sharpener, I have used this for both domestic and outdoor knives and it has given me a good edge even with knives that haven't seen a sharpener in a long time! The size is great as it can live in my rucksack ready for whenever I need it.
Arwen King
16th November, 2016
8 of 74

Only used it once so far. Does exactly what it does on the tin. Compact great little sharpener.
Johnnie Waugh
4th October, 2016
9 of 74

Does what it should, although it is small. This is a good sharpening stone to bring with you when you are outdoors. For home use, I would go for a bigger sharpening stone.
Anna Scheutz
27th March, 2016
10 of 74

An excellent pocket sized sharpening kit. I'm very grateful to Ray and his team for their splendid customer service.
Chris Mason
8th March, 2016
Share your opinion!
Let other people know your thoughts on this product.
Sorry, your notification details are not valid
We require both your name and a valid email address.
Sorry, your notification details are not valid
We require one or more sizes, your name and a valid email address.
Thank you
Your re-stocking notification has been accepted.
Item Added to Basket
x Fallkniven DC4 Diamond/Ceramic Whetstone added