Shipping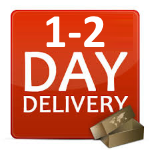 Delivery in 1-2 days (within UK)
Orders placed before 2PM GMT will be dispatched the same working day
Overseas delivery times will vary depending on the destination
---
Please note that our offices are closed on weekends, so any orders placed after 2PM GMT on Friday will not be dispatched until the following Monday.
Orders with a total value over £300.00 will be dispatched free via a next day delivery service within the UK at no extra cost.
Please note that in some instances, orders for heavy items may take an extra day to arrive.
For overseas deliveries, please refer to the following estimated delivery times:
Europe: 3 - 5 working days
Rest of the world: 5 - 7 working days
Returns
A full refund or exchange will be given provided that the items have not been worn or used, and are returned to us within 14 days of purchase, together with all relative labels and packaging.
Please ensure that you include a copy of your invoice, along with an explanation of why you have returned your goods. If you wish to return your goods for any reason, please do so to the following address:
Woodlore Limited
PO Box 3
Etchingham
East Sussex
TN19 7ZE
United Kingdom
Product Reviews
1 of 14

A very nice knife, very comfortable to use and perfect for carving spoons.
2 of 14

Top quality tool, already have a right-handed one. Thought having a left-hander would help me do a better job on some projects.
3 of 14

Lovely little spoon knife; one of the nicest I've tried. Has a rough and ready handmade charm, and is a very tactile tool. Sits really nicely in the hand, and is just a joy to use. The blade is top quality, holds an edge for ages even in seasoned wood, and is really easy to sharpen. The tang extends really far into the elm handle (which is made by Svante's wife, Elsa) so you can get some real torque through the wood with no worries. Really impressed with this, so much so I've ordered a Svante Djarv carving knife to go with it. Top marks too to the Woodlore team who dealt with my order really quickly and with great communication. My only wish would be for a wider range of woodcarving brands so I can always shop here!
4 of 14

I ordered three S. Djarv spoon knives for my daughter and, due to a mishap, got a left handed big instead of a left handed standard. When I contacted Woodlore to explain I was really cheeky and said I would keep the big one instead of going through the rigmarole of sending it back ( the big one is £5 more). To my surprise, Steven Bullen said I should keep the big knife anyway and Woodlore would send a left handed standard free of charge. I am spoiled by Woodlore's excellent service at all times but this was above and beyond. I cannot praise the Merchandising and Marketing team enough. Thanks again, folks. Woodlore will always be my first choice providers of kit.
5 of 14

I don't feel that I am qualified to review the qualities of this knife as I'm only just exploring the craft of the woods-person, but what I can say with authority is the service from the Woodlore team is exceptional. I've had three orders from them now, plus correspondence offering advice, and I am always highly impressed with the perfect, seamless and friendly service. As for the knife, well it was comfortable in the hand, very sharp and a pleasure to use. Not to mention it is a thing of aesthetic beauty.
6 of 14

Once I got used to this spoon knife its great for spoons, also for my hobby of bird carvings. Nice for concave and convex.
7 of 14

Truly an excellent tool! Its uses are endless but when it comes to using it for carving it really is excellent!
8 of 14

Excellent, as always. Say no more.
9 of 14

These high quality spoon knives from Sweden work as expected. It's nice to hold and use these hand made products.
10 of 14

Not impressed with the workmanship in this tool, it works well but the fit and finish is amateurish at best.
Woodlore's Reply - 24th June, 2013
Hello Mark. We're very sorry to hear of your disappointment with your order. These particular tools are hand-made in Sweden using traditional forging methods, by a highly experienced blacksmith. If you are unhappy with the tool you have received, please do get in touch if you would like a refund or replacement.
Share your opinion!
Let other people know your thoughts on this product.
Sorry, your notification details are not valid
We require both your name and a valid email address.
Sorry, your notification details are not valid
We require one or more sizes, your name and a valid email address.
Thank you
Your re-stocking notification has been accepted.
Item Added to Basket
x S. Djarv Hantverk Spoon Knife - Standard added