Shipping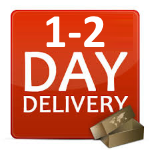 Delivery in 1-2 days within the United Kingdom
UK Orders placed before 2PM GMT will be dispatched the same working day
Overseas delivery times will vary depending on the destination
---
Please note that our offices are closed at weekends, so any orders placed after 2PM GMT on a Friday will not be dispatched until the following Monday.
Orders with a total value over £300.00 will be dispatched free via a next day delivery service within the UK at no extra cost.
Please note that in some instances, orders for heavy items may take an extra day to arrive.
---
Overseas deliveries
For overseas deliveries, please refer to the following estimated delivery times:
Europe: 3 - 5 working days
Rest of the world: 5 - 7 working days
Returns
A full refund or exchange will be given provided that the items have not been worn or used, and are returned to us within 14 days of purchase, together with all relative labels and packaging. You are responsible for the cost of returning items.
Please ensure that you include a copy of your invoice, along with an explanation of why you have returned your goods. If you wish to return your goods for any reason, please do so to the following address:
Woodlore Limited
PO Box 3
Etchingham
East Sussex
TN19 7ZE
United Kingdom
Reviews
---
1 of 28

A king amongst gloves. Hard wearing and very warm.
Douglas Brown
2nd May, 2017
2 of 28

Great gloves. These work really well as a solid hard wearing glove for working in the outdoors. They're well insulated and by having a spare pair of inners it allows the option to change them and maintain a dry environment for your hands even if working hard. The quality of the stitching and shape means these should last, even with hard punishment in the wet Scottish Highlands.
Thomas Laverty
18th April, 2017
3 of 28

I have spent my first few days with these gloves doing spring trapping for beaver and muskrat in the NWT, Canada. Temperatures ranged from -18 to -2 C from morning to afternoon. They have a great balance between warmth and dexterity and I have been able to drive a snowmobile, handle traps, tie knots, and cut firewood. I've been comfortable the whole time. They breathe well, my hands have not been damp or sweaty. The gloves have stayed dry enough that I haven't needed to use the spare liners I bought for them. I can't comment on durability yet obviously, but my impression is favourable. I hope they are durable enough to justify the expense of another pair when they wear out because, they are the best gloves I have owned so far.
4 of 28

These gloves are as good as all the reviews say they are. Tough construction from top quality leather. I measured a size 10 on the chart and the size 10 I ordered fit like perfectly. They were warm in the -8 degree Celsius during the day when I tried them. I like the wool removable liner, it is comfortable but doesn't make the glove too bulky therefore dexterity is not bad for a cold weather glove. It appears that they will stand up to heavy use but only time will tell. They are pricey but the quality seems to justify the price. Service to Canada was excellent for my order, the gloves including shipping and currency exchange worked out to be substantially less than I could purchase them for anywhere online in North America. Overall very satisfied.
Richard Salsman
8th April, 2017
5 of 28

Exceptional quality, this is the first time my hand are warm in gloves. Good grip, the leather is very soft and not too bulky. I order an 8 and the size fit perfectly. Like the two gloves systems, easy to dry.
Andre Francoeur
15th March, 2017
6 of 28

Nice glove but liner quality has changed measurably. Would not use this past -9c, previous liners are good to about -15. Still great gloves though. Woodlore service is great.
Jim Macdougall
12th March, 2017
7 of 28

The guide gloves are well made with quality leather and heavy duty stitching. I wanted an all leather glove that will last for years and this fits the bill. The lining is comfortable and stays completely in place when removing the gloves. I treated the gloves with the Hestra leather balm, which softened them up even more. The balm slightly darkened the brown and made it look much richer in appearance. I am going to wear them a bit then treat them with some Snoseal to heighten the water resistance. I wear an Arc'teryx Theta AR shell in the snow and the glove cuffs will fit under the sleeve with a minimal amount of effort. I also want to share my great experience ordering from Ray Mears/Woodlore. I live in the United States and was a bit concerned about ordering across the pond. The sites product price was by far the best I could find and shipping charges to the US were incredibly low. Buyers from the US can shop here without worry!
C Bain Storch
9th March, 2017
8 of 28

These are exceptional winter gloves. I bought them because I have had a very difficult time finding gloves that are comfortable, durable and able to provide protection in extreme cold. These fit the bill perfectly. The ability to replace the liners (like in the old days) is also a big plus. Almost certainly the best pair of winter gloves I have ever purchased. By the way, the service from Woodlore was exceptional. I placed my online order on a Sunday and all of my purchases were delivered (from the UK to Minnesota USA) within the week. Thank you.
Robert E Woods
28th January, 2017
9 of 28

Ended up purchasing one size larger. Allows for warm air to circulate around inside. The quality is outstanding. Supple, tough and reliable. I will absolutely purchase another pair if these ever fail (which they won't). The palm is still super soft but definitely tougher than the 'lighter coloured' leather on top. These are definitely high quality and worth the price. Buy yourself the balm to secure your investment. What's a few more $/£/€ when you've already bought these?
10 of 28

The best gloves I have every purchased, very warm and comfy.
Vincent Van Huis
17th January, 2017
Share your opinion!
Let other people know your thoughts on this product.
Sorry, your notification details are not valid
We require both your name and a valid email address.
Sorry, your notification details are not valid
We require one or more sizes, your name and a valid email address.
Thank you
Your re-stocking notification has been accepted.
Item Added to Basket
x Hestra Falt Guide Glove - Brown/Black added