Shipping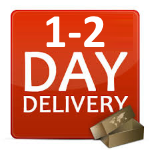 Delivery in 1-2 days (within UK)
Orders placed before 2PM GMT will be dispatched the same working day
Overseas delivery times will vary depending on the destination
---
Please note that our offices are closed on weekends, so any orders placed after 2PM GMT on Friday will not be dispatched until the following Monday.
Orders with a total value over £300.00 will be dispatched free via a next day delivery service within the UK at no extra cost.
Please note that in some instances, orders for heavy items may take an extra day to arrive.
For overseas deliveries, please refer to the following estimated delivery times:
Europe: 3 - 5 working days
Rest of the world: 5 - 7 working days
Returns
A full refund or exchange will be given provided that the items have not been worn or used, and are returned to us within 14 days of purchase, together with all relative labels and packaging. You are responsible for the cost of returning items.
Please ensure that you include a copy of your invoice, along with an explanation of why you have returned your goods. If you wish to return your goods for any reason, please do so to the following address:
Woodlore Limited
PO Box 3
Etchingham
East Sussex
TN19 7ZE
United Kingdom
Product Reviews
1 of 23

Does the job perfectly and is a reasonable price.
2 of 23

Very useful item to go with some gloves purchased at the same time. I actually thought they would be useful for other things like securing tools to wrists so they would not fall if slipping from hand when working at height or elsewhere. You don't want to lose tools or any item really, not just for gloves!
3 of 23

When you are paying upwards of £100 for a pair of Hestra gloves it makes sense to spend a few extra quid on a pair of handcuffs. It's an inexpensive way of making sure that you and your expensive investment are not parted.
4 of 23

Very useful and comfortable. No more lost gloves. Impressive service, I placed the order mid-afternoon and it was delivered before 9am the following day.
5 of 23

Finally, I've managed to track down a pair of these to order (I've been using a pair that came with my partner's gloves for years), and what a great price! These are a wonderful product, and mean that you can quickly slip your gloves off without fear of losing one or both of them, or trying to juggle holding onto a glove whilst doing the thing you took the glove off to do. It amazes me these aren't more common. Great product, great price, great delivery, and best of all I get to give back the ones I borrowed. I can't recommend these enough.
6 of 23

What a brilliant idea; I used to attach elastic to gloves to enable hands-free use and keep gloves safe. Very well made too.
7 of 23

Great little gadgets to safeguard my new Hestra ski gloves. Probably the best £3.50 you could spend. Would highly recommend.
8 of 23

These Hestra handcuffs stop me losing more gloves.
9 of 23

A very useful accessory. Great service too!
10 of 23

Simple, lightweight and does the trick. I will order another pair for my Buffalo gloves.
Share your opinion!
Let other people know your thoughts on this product.
Sorry, your notification details are not valid
We require both your name and a valid email address.
Sorry, your notification details are not valid
We require one or more sizes, your name and a valid email address.
Thank you
Your re-stocking notification has been accepted.
Item Added to Basket
x Hestra Handcuffs - Mens added