Shipping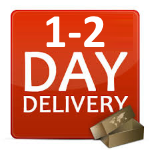 Delivery in 1-2 days (within UK)
Orders placed before 2PM GMT will be dispatched the same working day
Overseas delivery times will vary depending on the destination
---
Please note that our offices are closed on weekends, so any orders placed after 2PM GMT on Friday will not be dispatched until the following Monday.
Orders with a total value over £300.00 will be dispatched free via a next day delivery service within the UK at no extra cost.
Please note that in some instances, orders for heavy items may take an extra day to arrive.
For overseas deliveries, please refer to the following estimated delivery times:
Europe: 3 - 5 working days
Rest of the world: 5 - 7 working days
Returns
A full refund or exchange will be given provided that the items have not been worn or used, and are returned to us within 14 days of purchase, together with all relative labels and packaging. You are responsible for the cost of returning items.
Please ensure that you include a copy of your invoice, along with an explanation of why you have returned your goods. If you wish to return your goods for any reason, please do so to the following address:
Woodlore Limited
PO Box 3
Etchingham
East Sussex
TN19 7ZE
United Kingdom
Product Reviews
1 of 11

Brilliant. Quick delivery.
Deanna Jakes
8th August, 2016
2 of 11

Interesting read; fits well with the many TV situations seen for food-foraging.
N Harrison
9th February, 2016
3 of 11

Very interesting read. Well written; an excellent history of things we had forgotten our ancestors used to eat.
David Starkey
1st December, 2015
4 of 11

Brillient. Such an eye opener to our beginnings and development. The book manages to pull the reader into those ancient times. We really get a sense of being physically, cognitively and emotionally related to our own ancestors. We feel their learning process is our learning process. Packed full essential bushcraft information and knowledge.
5 of 11

A lovely useful book which enables us to make use of the natural food all around us. Highly recommended.
Susan Cole
25th December, 2014
6 of 11

Great book, very interesting and as always great service from woodlore.
Scott Mccarthy
20th June, 2014
7 of 11

This is essential reading for any Outdoors person. I thought I knew quite a bit about which plants that were edible and which weren't but this book has really opened my eyes. Oh, and the autographed fly leaf just makes it that extra bit special to take out in the woods.
David Hutton
5th April, 2014
8 of 11

The book 'Wild Food' is a practical tool for anyone with an interest for the lost knowledge of the natural resources in our environment. The beautiful illustrations are very helpful for understanding better the very complex world of the multiple varieties of plants.
P. Gandini
30th December, 2012
9 of 11

Like the TV series, a lovely 2-hander of Ray and Douglas. Amazing photos and fascinating (social?) history, together with enough detail to try for yourself. Will keep outdoors folk busily quiet indoors for a while, and represents very good value for money. Absolutely NOT a coffee table book!
Brendan P
22nd December, 2012
10 of 11

I want to take this opportunity to thank Ray and Gordon for writing Wild Food. My best friend Gerard gave the book for my fortieth birthday almost three years ago. In the front of the book he wrote: 'After 20 years Fast Food in the Ardennes it is now time for the real thing.' What an asset this book. Truly a gift from a friend. At first I thought that only plants that grow in England would be the subject of this book, but while studying the book and the plants therein I found out that most of them also grow on the European continent and far beyond. This book has clearly also has its value to bushcrafters that do not live in the United Kingdom. After several weeks of studying and reading I noticed that I began to recognize families of plants and individual plants and that I paid more attention to the things that were growing around me. It is clear to me that I am a student of Woodlore for life as I will continue to learn and discover about Wild Foods and Bushcraft. The true bush crafter for that matter will never stop learning. The Wild Food DVD is an asset on its own and I watch it regularly. It is a way to make the words of the book come to life. And see different techniques of gathering and processing firsthand. It's nice to Ray and Gordon in their role as hunter-gatherers and see them working together. Ray and Gordon, and thanks again for writing this master piece, it has changed my view on my surroundings forever.
John Van Zanen
12th September, 2011
Share your opinion!
Let other people know your thoughts on this product.
Frequently Asked Questions
Answers to frequently asked questions on this item can be found here. If you have a question about this product, please contact us.
Sorry, your notification details are not valid
We require both your name and a valid email address.
Sorry, your notification details are not valid
We require one or more sizes, your name and a valid email address.
Thank you
Your re-stocking notification has been accepted.
Item Added to Basket
x Ray Mears Wild Food - Signed Copy added