Shipping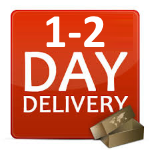 Delivery in 1-2 days within the United Kingdom
UK Orders placed before 2PM GMT will be dispatched the same working day
Overseas delivery times will vary depending on the destination
---
Please note that our offices are closed at weekends, so any orders placed after 2PM GMT on a Friday will not be dispatched until the following Monday.
Orders with a total value over £300.00 will be dispatched free via a next day delivery service within the UK at no extra cost.
Please note that in some instances, orders for heavy items may take an extra day to arrive.
---
Overseas deliveries
For overseas deliveries, please refer to the following estimated delivery times:
Europe: 3 - 5 working days
Rest of the world: 5 - 7 working days
Returns
A full refund or exchange will be given provided that the items have not been worn or used, and are returned to us within 14 days of purchase, together with all relative labels and packaging. You are responsible for the cost of returning items.
Please ensure that you include a copy of your invoice, along with an explanation of why you have returned your goods. If you wish to return your goods for any reason, please do so to the following address:
Woodlore Limited
PO Box 3
Etchingham
East Sussex
TN19 7ZE
United Kingdom
Reviews
---
1 of 19

What I need and very good to improve my Bushcraft skills.
Daniel
18th September, 2017
2 of 19

Super book, lots of nice information.
Kim Morten Lovaas Braten
27th April, 2017
3 of 19

Older, but still inspirational book.
Jiri Chytil
2nd October, 2016
4 of 19

I'm a real fan of Ray Mears and it is very special to receive his book on bushcraft personally signed by Ray himself. The book includes all the information advertised about it and more. Having had the book only a few short weeks, I've been able to try several bushcraft techniques at my home. The book has provided me with a new appreciation of nature and a way to feel a true part of the environment. I highly recommend this book to anyone wishing to learn more about the native habitat all around us.
5 of 19

Been looking for a book on survival techniques and this book fits the bill perfectly. Information is broken down into the four seasons which opens your eyes to the variations across the year. Great book for novice and experienced outdoor folk.
6 of 19

Just received my signed copy. It is a real no-nonsense book with clear illustrations and although it contains no colour photographs, the overall quality of its content is not compromised. If you are a novice to the subject, start with this book!
Stefaan Gregoir
19th November, 2015
7 of 19

This is a great book - very informative and makes good reading. There are so many helpful tips, enabling us to enjoy the countryside fully and making use of the natural products we have all around us. We live in a wonderful world with so many natural resources at our fingertips - we just need to take a step back from technology and retrace our footprints so that we can regain some of the skills our ancestors had - this books helps usto do this. Susan Cole.
Susan Cole
25th December, 2014
8 of 19

The knowledge in this book is priceless.
Grischa Rulle
17th March, 2014
9 of 19

Brilliant info, thanks Ray.
Craig Allen Rayner
6th February, 2014
10 of 19

An extremely informative and well written book.
Roy Mutter
25th January, 2014
Share your opinion!
Let other people know your thoughts on this product.
Frequently Asked Questions
Answers to frequently asked questions on this item can be found here. If you have a question about this product, please contact us.
Sorry, your notification details are not valid
We require both your name and a valid email address.
Sorry, your notification details are not valid
We require one or more sizes, your name and a valid email address.
Thank you
Your re-stocking notification has been accepted.
Item Added to Basket
x Ray Mears Outdoor Survival Handbook - Signed Copy added