Shipping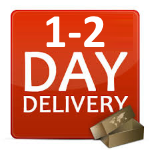 Delivery in 1-2 days (within UK)
Orders placed before 2PM GMT will be dispatched the same working day
Overseas delivery times will vary depending on the destination
---
Please note that our offices are closed on weekends, so any orders placed after 2PM GMT on Friday will not be dispatched until the following Monday.
Orders with a total value over £300.00 will be dispatched free via a next day delivery service within the UK at no extra cost.
Please note that in some instances, orders for heavy items may take an extra day to arrive.
For overseas deliveries, please refer to the following estimated delivery times:
Europe: 3 - 5 working days
Rest of the world: 5 - 7 working days
Returns
A full refund or exchange will be given provided that the items have not been worn or used, and are returned to us within 14 days of purchase, together with all relative labels and packaging. You are responsible for the cost of returning items.
Please ensure that you include a copy of your invoice, along with an explanation of why you have returned your goods. If you wish to return your goods for any reason, please do so to the following address:
Woodlore Limited
PO Box 3
Etchingham
East Sussex
TN19 7ZE
United Kingdom
Product Reviews
1 of 9

This is a wonderful tool, very fast shipping with quality service.
Infinityblade
26th September, 2017
2 of 9

Excellent piece of kit, solid and well made. If you are after a kettle for Bushcraft then this is ideal.
3 of 9

Stunning bit of kit, boils fast and cleans well It sits well on my anevay horizon or open fire, well worth the investment.
4 of 9

Quality item, handles fold down and sealed for easy storage in storage bag. Stable when used on a gas burner, firebox and Trangia triangle. Easy to fill and an easy pour spout. Really pleased with the kettle and great service from Woodlore.
5 of 9

I used it from Japan. It was prompt and correspondence was courteous. It is a compact, very easy to use product. Since copper is affixed to the bottom, hot water boils as soon as possible. I like it because it looks cool as well.
6 of 9

Buying goods from your company is really a very pleasant thing, hope to have the opportunity to continue to buy.
Yu-jen Hsueh
11th April, 2017
7 of 9

Quality quality and quality. This is an amazing kettle. I left home my Msr titanium kettle and took this one with me in my last trip and I loved it. It is a bit heavier but you'll get more option compare to regular kettles. I also love the way that handles fold on each other.
Reza Etemad
28th November, 2016
8 of 9

Expensive, but top notch. Could do with a spout cover/whistle, but you can't have everything. 5 star kettle,4 star cost.
Michael Matthews
7th September, 2016
9 of 9

Quality kettle made to withstand the elements. Love how the handles fold in and interlock to keep the kit tight. My only thing I would like to see improved would be the lid as I would love to have a tighter fit. Otherwise, glad to have made the purchase!
Adam Ferguson
28th August, 2016
Share your opinion!
Let other people know your thoughts on this product.
Sorry, your notification details are not valid
We require both your name and a valid email address.
Sorry, your notification details are not valid
We require one or more sizes, your name and a valid email address.
Thank you
Your re-stocking notification has been accepted.
Item Added to Basket
x Eagle Products 1.5 Litre Kettle added