Shipping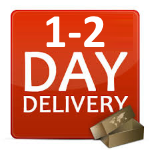 Delivery in 1-2 days (within UK)
Orders placed before 2PM GMT will be dispatched the same working day
Overseas delivery times will vary depending on the destination
---
Please note that our offices are closed on weekends, so any orders placed after 2PM GMT on Friday will not be dispatched until the following Monday.
Orders with a total value over £300.00 will be dispatched free via a next day delivery service within the UK at no extra cost.
Please note that in some instances, orders for heavy items may take an extra day to arrive.
For overseas deliveries, please refer to the following estimated delivery times:
Europe: 3 - 5 working days
Rest of the world: 5 - 7 working days
Returns
A full refund or exchange will be given provided that the items have not been worn or used, and are returned to us within 14 days of purchase, together with all relative labels and packaging.
Please ensure that you include a copy of your invoice, along with an explanation of why you have returned your goods. If you wish to return your goods for any reason, please do so to the following address:
Woodlore Limited
PO Box 3
Etchingham
East Sussex
TN19 7ZE
United Kingdom
Product Reviews
1 of 74

I love the smell and feel.
2 of 74

The best soap out there.... Period! Leaves you with that squeaky clean feeling... Seriously good for wet shaving too... I can see why Ray rates it so much... Not all soaps leave you feeling really cleansed... This does... Every trip on exped... It's the first thing to go I my wash kit! Highly recommended
3 of 74

Expensive but top notch. Wish I could use it every day but cost prohibitive. 5 star soap; 4 star price.
4 of 74

A really nice quality bar, strong smelling pine forest smell that works well as not only soap, but as an insect repellent base, deodoriser and can be used for shaving. Rich in oils.
5 of 74

We just love this stuff! No more athletes foot for me, also works well for other skin conditions too. Seems to shift stubborn stains way better than regular soaps. The service is excellent too, less than 24 hours from clicking the mouse to getting the parcel! Well done.
6 of 74

Fantastic! I occasionally get eczema on my feet - pine tar just seems to work wonders in eliminating it. I generally use a pumice stone to get rid of dry skin and then wash everyday with pine tar soap, after about two weeks its gone! Great stuff all natural product on the regular shopping list from now on.
7 of 74

My favourite soap for cleaning. Order arrived very quickly and in perfect condition. Excellently priced for 4 bars, in fact cheapest supplier in the UK. Will definitely be purchasing same item from Woodlore again. Highly recommended supplier and product.
8 of 74

Purchased this when I was pregnant with my first child when I suffered from a pregnancy-related rash. Nothing seemed to soothe it. Grandpa's pine tar soap was recommended by a few people who also had this PEP. This really helped with the itching and once it cleared after pregnancy this soap really helped with my flare up of eczema. Really moisturises the skin and doesn't dry it out like other soaps and shower gels. The smell is quite strong but I don't mind it; once it's washed off, it's quite subtle. Highly recommend it for dry skin and best price on here.
9 of 74

Smell - amazing; not too overpowering. Feel - amazing; skins feels soft and healthy. Medicinal - amazing; I gave a bar to my friend who suffers from terrible Eczema and this has started to clear over the period of two weeks. Service - amazing; fast delivery, well packaged and handy e-mail updates. I use this for shaving, showering and shampooing and have just used it trekking through the Pindhos mountains in Greece. Perfect for a freshen up before slipping into my tent every night.
10 of 74

This soap is simply the best. I have now lost track of how many times we have reordered. The whole family use it. The fragrance is fresh and sharp and I have used it to wash my body, my hair, and shave with. When I go away it is the only soap product I need to take. Your skin genuinely feels clean afterwards and although you may read reports that it has a smoky smell when being used (which I happen to love) it does not linger or taint after drying off. Wonder is the best title to give this soap. I dread the day it is not in stock. Buy it, you'll see!
Share your opinion!
Let other people know your thoughts on this product.
Sorry, your notification details are not valid
We require both your name and a valid email address.
Sorry, your notification details are not valid
We require one or more sizes, your name and a valid email address.
Thank you
Your re-stocking notification has been accepted.
Item Added to Basket
x Grandpa's Wonder Pine Tar Soap 3.25oz - Pack of 4 added