Shipping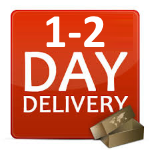 Delivery in 1-2 days within the United Kingdom
UK Orders placed before 2PM GMT will be dispatched the same working day
Overseas delivery times will vary depending on the destination
---
Please note that our offices are closed at weekends, so any orders placed after 2PM GMT on a Friday will not be dispatched until the following Monday.
Orders with a total value over £300.00 will be dispatched free via a next day delivery service within the UK at no extra cost.
Please note that in some instances, orders for heavy items may take an extra day to arrive.
---
Overseas deliveries
For overseas deliveries, please refer to the following estimated delivery times:
Europe: 3 - 5 working days
Rest of the world: 5 - 7 working days
Returns
A full refund or exchange will be given provided that the items have not been worn or used, and are returned to us within 14 days of purchase, together with all relative labels and packaging. You are responsible for the cost of returning items.
Please ensure that you include a copy of your invoice, along with an explanation of why you have returned your goods. If you wish to return your goods for any reason, please do so to the following address:
Woodlore Limited
PO Box 3
Etchingham
East Sussex
TN19 7ZE
United Kingdom
Reviews
---
1 of 4

Fantastic piece of kit.
Thomas M Bowen
26th September, 2017
2 of 4

A compact, fantastic wee burner. For the price the product quality is fairly good. The rubber O-ring ensures no leakage and a fairly strong lock with the lid. The snuff provided has a flame regulator which is held on by a pop rivet; don't see it lasting too long. Used with methylated spirits and boiled a 14 cm diameter 3/4-full Zebra billy can of cold water in around 11 minutes (overhang without stove/wind protection). Works with the original crusader cook set, however I would recommend pairing with a Honey Stove or something with more clearance to allow better oxygen flow.
Glyn Edwards
16th March, 2016
3 of 4

Nice little alcohol burner. Looks very much like the Trangia burner, and functions the same way. The Esbit burner however, has a handle attached to the simmer ring, which allows you to adjust the flame without burning your fingers. And that is a very good thing. Good quality product. Just remember to break it in before you take it out in the woods for the first time. I do not know why, but you have to use it a few times before the jets starts working properly. This is the case with several alcohol burners. Just the way it is. This kind of alcohol burner has been on the market for a very long time, and there is a reason for that.
Preben Richter
14th March, 2016
4 of 4

Old school alcohol burner. The only difference between the Esbit and Trangia is the simmer ring, apart from the handy handle. The stainless steel doesn't blister and pit as anyone who has used the Trangia will know and be familiar with. You can also rely on Mr. Mears' recommendation without question.
Kevin Harvey
16th November, 2015
Share your opinion!
Let other people know your thoughts on this product.
Sorry, your notification details are not valid
We require both your name and a valid email address.
Sorry, your notification details are not valid
We require one or more sizes, your name and a valid email address.
Thank you
Your re-stocking notification has been accepted.
Item Added to Basket
x Esbit Alcohol Burner added