Item Added to Basket
x Silva Ranger SL Compass added
Further Information
"The Silva Ranger SL Compass is a precision instrument that should be found in every outdoor enthusiast's rucksack, regardless of the part of the world, activity or scope of the adventure. A compass will help you to find your way for many years, and there are no batteries that can go flat."

The Silva Ranger SL, previously known as the Ranger 27, is a small sighting compass, one that Ray heralds as "the perfect backup compass". It features a built-in sun dial, a sighting mirror in the lid, as well as a tough safety pin so that it can be attached to your jacket, thereby allowing you to keep both hands free. Ideal as a reserve compass for those attending one of our Wilderness Navigation courses.

The Ranger Series is specially suited for more experienced users, such as backpackers, mountaineers, hunters, fishermen etc. Equipped with the patented red/black North/South lines in the capsule for quick and correct course setting, North indicator on the red end of the compass needle and luminous markings for accurate navigation in the dark.

Features:
Sapphire jewel bearing for friction-free movement of the compass needle
Durable hot-stamping of scales/graduations
Mirror sighting for accurate bearings
Patented red/black orienting lines inside the compass housing
Map measuring scales in millimetres
Built in sun-watch
Pin-on jacket function for hands-free use
Luminous markings for night navigation
Comes with a 5 year warranty
Shipping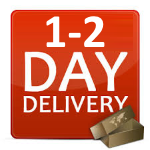 Delivery in 1-2 days (within UK)
Orders placed before 2PM GMT will be dispatched the same working day
Overseas delivery times will vary depending on the destination
---
Please note that our offices are closed on weekends, so any orders placed after 2PM GMT on Friday will not be dispatched until the following Monday.
Orders with a total value over £300.00 will be dispatched via a next day delivery service within the UK at no extra cost.
Please note that in some instances, orders for heavy items may take an extra day to arrive.
For overseas deliveries, please refer to the following estimated delivery times:
Europe: 3 - 5 working days
Rest of the world: 5 - 7 working days
Returns
A full refund or exchange will be given provided that the items have not been worn or used, and are returned to us within
14 days
of purchase, together with all relative labels and packaging.
Please ensure that you include a copy of your invoice, along with an explanation of why you have returned your goods. If you wish to return your goods for any reason, please do so to the following address:
Woodlore Limited
PO Box 3
Etchingham
East Sussex
TN19 7ZE
United Kingdom
Product Reviews
Sorry, we cannot review this item
This code is for an order that has not been shipped. It cannot yet be reviewed. Please wait until your order has arrived before reviewing it.
Sorry, that purchase code could not be found
Your purchase code was not valid. Please ensure the code is correct and that it is not for a Woodlore Course or Voucher.
Sorry, your notification details are not valid
We require both your name and a valid email address.
Sorry, your notification details are not valid
We require one or more sizes, your name and a valid email address.
Thank you
Your re-stocking notification has been accepted.