Shipping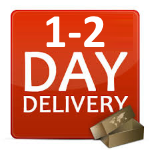 Delivery in 1-2 days within the United Kingdom
UK Orders placed before 2PM GMT will be dispatched the same working day
Overseas delivery times will vary depending on the destination
---
Please note that our offices are closed at weekends, so any orders placed after 2PM GMT on a Friday will not be dispatched until the following Monday.
Orders with a total value over £300.00 will be dispatched free via a next day delivery service within the UK at no extra cost.
Please note that in some instances, orders for heavy items may take an extra day to arrive.
---
Overseas deliveries
For overseas deliveries, please refer to the following estimated delivery times:
Europe: 3 - 5 working days
Rest of the world: 5 - 7 working days
Returns
A full refund or exchange will be given provided that the items have not been worn or used, and are returned to us within 14 days of purchase, together with all relative labels and packaging. You are responsible for the cost of returning items.
Please ensure that you include a copy of your invoice, along with an explanation of why you have returned your goods. If you wish to return your goods for any reason, please do so to the following address:
Woodlore Limited
PO Box 3
Etchingham
East Sussex
TN19 7ZE
United Kingdom
Reviews
---
1 of 21

Very thin fabric, fortunately it's long enough to double-up. Quality is ok.
2 of 21

I never go anywhere without this bit of kit. Keeps my neck warm; can be used as a hat; worn on the wrist to protect a watch; great around camp to pick up hot pots out of the fire etc - the merino wool doesn`t scorch. Packs to the size of a handkerchief in a pocket ! Excellent delivery service.
Matthew Harris
15th November, 2016
3 of 21

These are very comfortable, warm and lightweight.
Glyn Edwards
30th January, 2016
4 of 21

Great. Warm and stylish.
Sophie Poklewski Koziell
6th January, 2016
5 of 21

We use these at the moment in Holland. Good quality, very handy and user-friendly. The kids are very happy with it.
Hans Van Dulst
7th November, 2014
6 of 21

Very warm and going to be so useful for walking, cycling and golfing in cold weather.
Elaine Pushman
20th February, 2014
7 of 21

I used this Buff - Merino Wool for skiing in Finland and it did a perfect job. Just what you expect from Woodlore - excellent.
Richard Thomas Murden
30th January, 2014
8 of 21

What a marvellous piece of kit. Makes you feel very comfy. Easy to store in any pocket. Reasonable price, great quality product. More than happy I bought it. Best service as well as usual. Thanks. Strongly recommended.
Gerald Bartz
22nd January, 2014
9 of 21

This is the second I have bought. I recently lost the first when I foolishly left it behind at a close friend's and they liked it so much I didn't have the heart to take it off them. So of course I need a replacement. I have quite a lot of merino wool garments for wearing next to the skin because nothing beats them for warmth, comfort or feel, even when damp or wet.
John Phillips
27th October, 2013
10 of 21

Very prompt service, nice and warm. Pleased with the product.
Leigh Johnson
13th September, 2013
Share your opinion!
Let other people know your thoughts on this product.
Sorry, your notification details are not valid
We require both your name and a valid email address.
Sorry, your notification details are not valid
We require one or more sizes, your name and a valid email address.
Thank you
Your re-stocking notification has been accepted.
Item Added to Basket
x Buff - Merino Wool - Black added