Shipping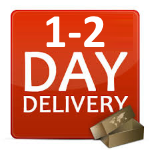 Delivery in 1-2 days within the United Kingdom
UK Orders placed before 2PM GMT will be dispatched the same working day
Overseas delivery times will vary depending on the destination
---
Please note that our offices are closed at weekends, so any orders placed after 2PM GMT on a Friday will not be dispatched until the following Monday.
Orders with a total value over £300.00 will be dispatched free via a next day delivery service within the UK at no extra cost.
Please note that in some instances, orders for heavy items may take an extra day to arrive.
---
Overseas deliveries
For overseas deliveries, please refer to the following estimated delivery times:
Europe: 3 - 5 working days
Rest of the world: 5 - 7 working days
Returns
A full refund or exchange will be given provided that the items have not been worn or used, and are returned to us within 14 days of purchase, together with all relative labels and packaging. You are responsible for the cost of returning items.
Please ensure that you include a copy of your invoice, along with an explanation of why you have returned your goods. If you wish to return your goods for any reason, please do so to the following address:
Woodlore Limited
PO Box 3
Etchingham
East Sussex
TN19 7ZE
United Kingdom
Product Reviews
---
1 of 36

Great Anorak, good service.
Chris Wright
6th December, 2017
2 of 36

Came in the post next day. I Bought a large so I could wear some under layers and it would still be a little baggy. I'm 5ft 5 and apart from the long sleeves it fits lovely. Nothing the Velcro wrists didn't fix. Feels really good quality like everything I've brought from this website. Yet to walk in the rain but I'm looking forward to it. Many thanks
Tom Raven
23rd November, 2017
3 of 36

I wasn't sure what to expect, however as with all items from Woodlore, you just know they will be top quality and this Bergans Morgedal anorak is no exception. I absolutely love this anorak. It protects against the wind and rain and feels really comfortable to wear. Perfect for all occasions.
Ryan Bedingfield
3rd October, 2017
4 of 36

I am really impressed with this smock it is light weight and packs down small to fit in my daysack. Having used this smock only for a week, it has gone through a heavy rain storm and strong winds. I stayed dry and the wind did not get through. It is cool enough to wear with a t-shirt and warm with just a Swanndri shirt under it. I would recommend this to anyone looking for a serious all round smock for summer to winter.
Jason P Nock
17th May, 2017
5 of 36

For more years than I care to remember I've worn an army windproof smock. Age had finally got the better of it and I decided I wanted to replace it with something a little less military. The Morgedal is excellent, very well made, strong and I like both the colour and design. At 5'11' and 44 chest I opted for the X Large which gave enough room for my down jacket underneath but also close enough fitting to be comfortable on its own. Looking forwards to many years of use.
Mark Pywell
22nd March, 2017
6 of 36

I adore the anorak I recently bought. The small men's size fits me a treat. I usually wear a size 12-14. It is a Snug fit but fine when on. I thought this might be good for future reference if another female asks.
Carole Gibbs
10th February, 2017
7 of 36

What not Five Star? Sadly not, it's not as water repellent as I was hoping for but I do live on the borders of Dartmoor and the rain is quite persistent. That's the negative now the positive. I had been looking around for a more traditional 'Anorak' for some considerable time but couldn't justify the expense, well as most of you who will read this will also have two, three or more hiking jackets, you know what I mean. But here it was at a great price, colour and style. The fit is good, adjustments can be made for your own personal fit. I was a little uncertain of the size I would need but as I am Mr. Average (5'9' with a 34' waist 40' chest), I decided on the medium. It arrived the next day (ordered before noon), I eagerly opened the parcel and slipped it over my head. However, I was wearing a rather bulky jumper so it was a struggle. Once I had the right clothing on the fit is excellent. Windproof wise, no complaint. I would wholeheartedly recommend Bergans, get out there, live life.
Terry Speyer
2nd February, 2017
8 of 36

Item is as described and not different from pictures, it appears to be well made but only time will tell. Some of the reviews I looked at said it was slightly large on the sizing and I found this to be the case but that is a minor inconvenience. The only complaint I have is with the zipper flaps on the pockets, they face forwards instead of backwards and make it awkward getting hands into the pockets.
Lorna Mckenzie
3rd January, 2017
9 of 36

I am delighted with the Bergans smock and have worn it every day since receiving it. It is just what I wanted for hill walking and fishing in Scotland; lightweight, windproof and water repellent, although I must confess not to have tested it in really wet weather.
Roddy Lloyd
17th June, 2016
10 of 36

Having used this for a while now I have come to the conclusion that I really like this jacket. OK, so it is made in China (as a previous reviewer has said); I see nothing wrong with this, so are a lot of things. I think at the price (I managed to pick this up at the discounted price) it represents good value. It is also a good alternative to synthetic materials. So far weather-wise it seems to have held out really well. The only gripe I have with it is the positioning of the hand pockets; I dont like it. If you wear a pack with a waist belt it is a real pain. I did buy it knowing this so I think it would be unfair to mark it down for this. I also like the colour; it is nice to have an alternative to the normal green. Top marks from me on this one.
Matt Crowson
11th February, 2016
Share your opinion!
Let other people know your thoughts on this product.
Sorry, your notification details are not valid
We require both your name and a valid email address.
Sorry, your notification details are not valid
We require one or more sizes, your name and a valid email address.
Thank you
Your re-stocking notification has been accepted.
Item Added to Basket
x Bergans Morgedal Backcountry Anorak - Dark Khaki added