Shipping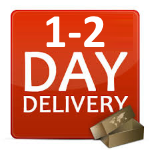 Delivery in 1-2 days (within UK)
Orders placed before 2PM GMT will be dispatched the same working day
Overseas delivery times will vary depending on the destination
---
Please note that our offices are closed on weekends, so any orders placed after 2PM GMT on Friday will not be dispatched until the following Monday.
Orders with a total value over £300.00 will be dispatched free via a next day delivery service within the UK at no extra cost.
Please note that in some instances, orders for heavy items may take an extra day to arrive.
For overseas deliveries, please refer to the following estimated delivery times:
Europe: 3 - 5 working days
Rest of the world: 5 - 7 working days
Returns
A full refund or exchange will be given provided that the items have not been worn or used, and are returned to us within 14 days of purchase, together with all relative labels and packaging.
Please ensure that you include a copy of your invoice, along with an explanation of why you have returned your goods. If you wish to return your goods for any reason, please do so to the following address:
Woodlore Limited
PO Box 3
Etchingham
East Sussex
TN19 7ZE
United Kingdom
Product Reviews
1 of 57

This Crusader Cup is the best cup I have ever owned.
2 of 57

Bought together with the Osprey canteen - fits well and doesn't come loose (an elastic band or bungee cord is useful to keep the handles from flapping about though). Fits well atop most stove systems with a wide, flat bottom for stability. No metallic taste when drinking water or hot drinks from it.
3 of 57

The BCB Nato Crusader Cup is durable and large enough to brew the obligatory bush cuppa for two people, in my experience. It cleans nicely and the stacking feature of it combined with the Osprey NATO water bottle is a nice bonus, however, I have found that the bottle can sometimes stick inside the cup. It is retrievable with a bit of jimmying around, which is not much hassle, and the whole being stuck thing does also mean that it won't fall out if you somehow find yourself hanging upside down.
4 of 57

Can't rate this highly enough. Find myself favouring this over other much more expensive pot sets. Very sturdy, easy to clean, easy to eat out of and to pour out of.
5 of 57

A marvellous item. Directly in the fire for your Turkish coffee or, a bit more sophisticated, a mug for a large amount of brew of any kind (pine needle, peppermint or of course a good old cup of tea).
6 of 57

Brilliant piece of kit. I have combined it with the cooker and lid to make a complete cooking system.
7 of 57

A useful product - good size too. Will be put to good use in the future.
8 of 57

I have used this item along with the NATO cup boil cover on a few occasions to make tea over fire, using 1) a grill section, and 2) a cut piece of wood placed horizontally in the fireplace. Using this method I get water boiling in the bottom of the cup while still being able to pick up the cup using its metal handle, without it being too hot to handle with the bare hand. The NATO cup boiler cover fits the cup rather well and is easily mounted and removed.
9 of 57

I find the BCB NATO Crusader Cup a very sturdy and reliable part of my cook kit.
10 of 57

I already had one of these and I bought another one as a gift to a very close friend of mine! Awesome and bombproof.
Share your opinion!
Let other people know your thoughts on this product.
Sorry, your notification details are not valid
We require both your name and a valid email address.
Sorry, your notification details are not valid
We require one or more sizes, your name and a valid email address.
Thank you
Your re-stocking notification has been accepted.
Item Added to Basket
x BCB NATO Crusader Cup added