Shipping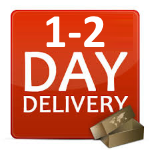 Delivery in 1-2 days (within UK)
Orders placed before 2PM GMT will be dispatched the same working day
Overseas delivery times will vary depending on the destination
---
Please note that our offices are closed on weekends, so any orders placed after 2PM GMT on Friday will not be dispatched until the following Monday.
Orders with a total value over £300.00 will be dispatched free via a next day delivery service within the UK at no extra cost.
Please note that in some instances, orders for heavy items may take an extra day to arrive.
For overseas deliveries, please refer to the following estimated delivery times:
Europe: 3 - 5 working days
Rest of the world: 5 - 7 working days
Returns
A full refund or exchange will be given provided that the items have not been worn or used, and are returned to us within 14 days of purchase, together with all relative labels and packaging. You are responsible for the cost of returning items.
Please ensure that you include a copy of your invoice, along with an explanation of why you have returned your goods. If you wish to return your goods for any reason, please do so to the following address:
Woodlore Limited
PO Box 3
Etchingham
East Sussex
TN19 7ZE
United Kingdom
Product Reviews
1 of 65

Excellent bit of kit.
Tony Melbourn
20th July, 2017
2 of 65

Excellent quality and quick delivery.
3 of 65

I Chose this to go with the Osprey water bottle, it fits snug. Well made cup, sturdy, with no sharp edges. Add the Osprey bottle, water, gas burner, (milk for a luxury item) brew kit, you have a complete set. Lightweight addition to my kit. As usual great service from Woodlore. Thanks again.
4 of 65

Functional, tough and does the job well. Looking forward to many years of use.
5 of 65

The large (750ml) cup that also serves as a pot.
Manuel
18th December, 2016
6 of 65

I have the US army canteen cup, the Rotcho canteen cup and the Crusader mk2 canteen cup. This is the most solid but also the heaviest of them all. It holds more volume than the ones made for the US canteen. For use over the fire I have drilled two holes in it for the bottle hanger. This seems to work very well. I would absolutely recommend this one over the Mk2. The shipping was very fast indeed.
Tommy Mikalsen
8th December, 2016
7 of 65

Very satisfied with this product from BCB. High quality stainless steel mug. Three words to describe; tough, durable & reliable . Highly recommended for those who need a good piece of cooking kit. Worth every penny. Lasting to last.
Filimon Undang
6th September, 2016
8 of 65

I am very pleased with my Crusader cup. It is very well made and of a size well suited to daily use in a variety of applications. Its stainless steel construction allows it to be scrubbed clean as necessary and also allows it to be placed directly on a camp fire.It is pleasant to drink from having an ergonomic lip around its edge.
Pat Conlon
30th June, 2016
9 of 65

This Crusader Cup is the best cup I have ever owned.
Miguel Angel
2nd March, 2016
10 of 65

Bought together with the Osprey canteen - fits well and doesn't come loose (an elastic band or bungee cord is useful to keep the handles from flapping about though). Fits well atop most stove systems with a wide, flat bottom for stability. No metallic taste when drinking water or hot drinks from it.
John Thornhill
31st December, 2015
Share your opinion!
Let other people know your thoughts on this product.
Sorry, your notification details are not valid
We require both your name and a valid email address.
Sorry, your notification details are not valid
We require one or more sizes, your name and a valid email address.
Thank you
Your re-stocking notification has been accepted.
Item Added to Basket
x BCB NATO Crusader Cup added