Shipping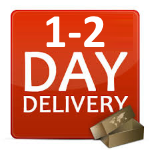 Delivery in 1-2 days (within UK)
Orders placed before 2PM GMT will be dispatched the same working day
Overseas delivery times will vary depending on the destination
---
Please note that our offices are closed on weekends, so any orders placed after 2PM GMT on Friday will not be dispatched until the following Monday.
Orders with a total value over £300.00 will be dispatched free via a next day delivery service within the UK at no extra cost.
Please note that in some instances, orders for heavy items may take an extra day to arrive.
For overseas deliveries, please refer to the following estimated delivery times:
Europe: 3 - 5 working days
Rest of the world: 5 - 7 working days
Returns
A full refund or exchange will be given provided that the items have not been worn or used, and are returned to us within 14 days of purchase, together with all relative labels and packaging.
Please ensure that you include a copy of your invoice, along with an explanation of why you have returned your goods. If you wish to return your goods for any reason, please do so to the following address:
Woodlore Limited
PO Box 3
Etchingham
East Sussex
TN19 7ZE
United Kingdom
Product Reviews
1 of 13

Awesome, not only for the folding buck saw!
2 of 13

Great fabric, strong stitching, and lovely leather work which should last a life time. Keeps my saw and axe in great condition. A quality item.
3 of 13

Fit for the job in hand. I have fitted a thick, leather strap so that I can use it more comfortably with a heavier axe. Really well made and aesthetically pleasing. Great job.
4 of 13

Great product , highest quality. Would not hesitate to recommend this one to someone looking for the best in an axe and bucksaw carry combo.
5 of 13

I thought the whole thing was going to be leather but it turned out to be canvas with leather detailing, but it's still pretty cool. Their customer service cannot be beaten and it was a pleasure shopping with them.
6 of 13

I've been looking for a case for my saw and axe and this is the only thing out there that suits my needs. Craftsmanship is impeccable with this; fits my GB Scandinavian and 24 in bucksaw. However, I have to knock off a point for the shoulder strap. The paracord shoulder strap quickly became uncomfortable. It would have been much better if it came with a one inch shoulder strap. To remedy this, just use a shoulder bag strap, sling to a thicker paracord weave.
7 of 13

Amazing craftsmanship & quality; I wish I had the patience and skill to work canvas and leather. The securing toggle is really ingenious and my axe is safely secured. I might upgrade the shoulder strap; I do a lot of walking and I have a feeling that the single core strap supplied will quickly dig into my shoulder (hence only 4 stars).
8 of 13

I received my Saw Case within 22 hrs of my placing my order! The practical design and the highest standards of materials and craftwork will make this case a joy to use. My thanks to Woodlore.
9 of 13

The genius is within simplicity. It holds my Gransfors Bruks hunters axe in an effortless and convenient position, relieving me of an unnecessary rucksack on the move through the bush. A Boar hunters dream.
10 of 13

Lovley sheath, well made as one can expect, but with the Small Forest Axe the handle does not protrude through it as shown on the pictures, but maybe I did not read the description carefully. Nevertheless, it is a very nice, very well made piece of bushcraft gadget!
Woodlore's Reply - 21st June, 2013
Hello Dr Malek. While the Buck Saw Case does fit a number of different Gransfors axes, the particular model shown in the pictures above is the Ray Mears Wilderness Axe. This model has a longer handle than the Small Forest Axe, hence the protruding end.
Share your opinion!
Let other people know your thoughts on this product.
Sorry, your notification details are not valid
We require both your name and a valid email address.
Sorry, your notification details are not valid
We require one or more sizes, your name and a valid email address.
Thank you
Your re-stocking notification has been accepted.
Item Added to Basket
x Ray Mears Folding Buck Saw Case added