Shipping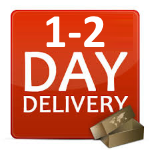 Delivery in 1-2 days (within UK)
Orders placed before 2PM GMT will be dispatched the same working day
Overseas delivery times will vary depending on the destination
---
Please note that our offices are closed on weekends, so any orders placed after 2PM GMT on Friday will not be dispatched until the following Monday.
Orders with a total value over £300.00 will be dispatched free via a next day delivery service within the UK at no extra cost.
Please note that in some instances, orders for heavy items may take an extra day to arrive.
For overseas deliveries, please refer to the following estimated delivery times:
Europe: 3 - 5 working days
Rest of the world: 5 - 7 working days
Returns
A full refund or exchange will be given provided that the items have not been worn or used, and are returned to us within 14 days of purchase, together with all relative labels and packaging.
Please ensure that you include a copy of your invoice, along with an explanation of why you have returned your goods. If you wish to return your goods for any reason, please do so to the following address:
Woodlore Limited
PO Box 3
Etchingham
East Sussex
TN19 7ZE
United Kingdom
Product Reviews
1 of 12

Excellent product and excellent service. Thanks for your help.
2 of 12

Excellent so far.
3 of 12

Excellent product and fast delivery time.
4 of 12

Best flask I have ever owned! I use it at home to keep hot water for my daughter's formula and have never had to reheat since.
5 of 12

Warm log in reverse: 34 C the next day at 7:00; 39 C at 18:00; 42 C at 7:00; warm 50 C tests at 18:00 (with prewarming). Good stuff.
6 of 12

Unbeatable quick, superb quality product. I use it for hiking. And when I am on building-site I also enjoy a nice cuppa. Pretty light-weight. Another great deal.
7 of 12

My previous flask was quite heavy but this flask is stronger, lighter and keeps liquid warmer for longer. What more do you need!
8 of 12

Tough, compact, well insulated.
9 of 12

Keeps hot, small in size.
10 of 12

I used this thermos while I was hiking for a day. I filled it at 08:00am and had my first hot soup at 14:00, my second at 16:30 and the two were piping hot when I was having them. This is a perfect size to fit into a small day pack and I would highly recommend it
Share your opinion!
Let other people know your thoughts on this product.
Sorry, your notification details are not valid
We require both your name and a valid email address.
Sorry, your notification details are not valid
We require one or more sizes, your name and a valid email address.
Thank you
Your re-stocking notification has been accepted.
Item Added to Basket
x Thermos Urban Ultimate Steel Flask 0.8L added