Shipping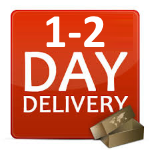 Delivery in 1-2 days within the United Kingdom
UK Orders placed before 2PM GMT will be dispatched the same working day
Overseas delivery times will vary depending on the destination
---
Please note that our offices are closed at weekends, so any orders placed after 2PM GMT on a Friday will not be dispatched until the following Monday.
Orders with a total value over £300.00 will be dispatched free via a next day delivery service within the UK at no extra cost.
Please note that in some instances, orders for heavy items may take an extra day to arrive.
---
Overseas deliveries
For overseas deliveries, please refer to the following estimated delivery times:
Europe: 3 - 5 working days
Rest of the world: 5 - 7 working days
Returns
A full refund or exchange will be given provided that the items have not been worn or used, and are returned to us within 14 days of purchase, together with all relative labels and packaging. You are responsible for the cost of returning items.
Please ensure that you include a copy of your invoice, along with an explanation of why you have returned your goods. If you wish to return your goods for any reason, please do so to the following address:
Woodlore Limited
PO Box 3
Etchingham
East Sussex
TN19 7ZE
United Kingdom
Reviews
---
1 of 12

Excellent socks-hardwearing, warm and comfortable-even when damp.
2 of 12

Quite simply the best socks I have ever bought, really comfortable all day long. Only time will tell how long they last but when they do wear out I'll buy some more! They are worth it!
Roy L
13th September, 2016
3 of 12

Great socks. First use went up the Ranger Path of Snowdon and back without any blisters or bruising. Bearing in mind I was wearing some £15, 13-year-old boots, that's probably quite an achievement!
4 of 12

These are the comfiest socks I've ever worn.
Adam Chipchase
11th May, 2015
5 of 12

Superb socks. Also very comfortable for folk with foot problems.
Joe Thet
4th November, 2014
6 of 12

Excellent well made sock. Very comfortable.
Joe Thet
3rd November, 2014
7 of 12

The size of the sock doesnt quite match my foot size (size 11), but I though that the largest size would have been too big. Other than that they are very comfortable if a little tight around the ankle and lower leg.
Tony Gott
12th October, 2014
8 of 12

Very comfortable and warm, really pleased with my purchase. Also excellent service.
Steven Macgregor
31st January, 2014
9 of 12

Incredibly warm and comfortable. Great item!
Rogelio Luque Lora
7th February, 2013
10 of 12

Socks are great, exactly as described! Really cushions in the right places and delivered the next day. Cannot better that. Will be purchasing again - thanks.
A J Smith C/o Briggs Amasco Ltd
29th January, 2013
Share your opinion!
Let other people know your thoughts on this product.
Sorry, your notification details are not valid
We require both your name and a valid email address.
Sorry, your notification details are not valid
We require one or more sizes, your name and a valid email address.
Thank you
Your re-stocking notification has been accepted.
Item Added to Basket
x Thorlos KLT Hiking Socks added