Shipping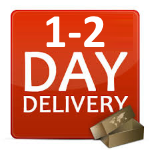 Delivery in 1-2 days (within UK)
Orders placed before 2PM GMT will be dispatched the same working day
Overseas delivery times will vary depending on the destination
---
Please note that our offices are closed on weekends, so any orders placed after 2PM GMT on Friday will not be dispatched until the following Monday.
Orders with a total value over £300.00 will be dispatched free via a next day delivery service within the UK at no extra cost.
Please note that in some instances, orders for heavy items may take an extra day to arrive.
For overseas deliveries, please refer to the following estimated delivery times:
Europe: 3 - 5 working days
Rest of the world: 5 - 7 working days
Returns
A full refund or exchange will be given provided that the items have not been worn or used, and are returned to us within 14 days of purchase, together with all relative labels and packaging.
Please ensure that you include a copy of your invoice, along with an explanation of why you have returned your goods. If you wish to return your goods for any reason, please do so to the following address:
Woodlore Limited
PO Box 3
Etchingham
East Sussex
TN19 7ZE
United Kingdom
Product Reviews
1 of 28

Not many words to say: just really awesome!
2 of 28

Absolutely beautiful craftsmanship and quality. I really love the Buck Saw case, perfect fit to my Wetterlings Hudson Bay Axe. I will enjoy this on all my Canadian canoe expeditions and outdoor trips. I feel more connected with nature.
3 of 28

This buck saw is the piece of gear to bring with you when you have to process a lot of wood either for fire or shelter making. And that carry bag is just perfect!
4 of 28

Great piece of kit to compliment my knife and axe. Never without it now.
5 of 28

I paired this with the Scandinavian Forest Axe and the two complement each other well. I have used the saw for clearing fallen trees and for preparing fire wood for camp fires while I am working in my woods. The saw performs very well on green wood as well as dry. I now take the saw with me whenever I go for a walk. The saw and the bag are well made and care has been taken in their aesthetic value and function. I have been impressed by the performance and portability of this saw and would recommend it for ease of use and effectiveness.
6 of 28

Much better than the Aluminum Boreal 21 Saw, that one flexed way too much. Nice to finally have the companion for my axe. Nice and neat in the extremely well-made and thought-out canvas bag, although if there was a pocket or place to put the axe sharpening stone, keeping every thing in one spot, that would be the icing on the cake.
7 of 28

Very high quality. Very pleased with this purchase. Thanks Woodlore.
8 of 28

A brilliant partner to my Wilderness Axe. Beautiful to use and a joy to watch in the firelight it helped to provide. Great service from Woodlore as usual.
9 of 28

Nice tool, does its job. Folds away easily, portable. It expands your range of possibilities out in the wild.
10 of 28

I received my Buck Saw promptly & very well packaged. I found the instructions for assembly & use comprehensive & precise, so I soon had the saw ready for use. I was impressed during my initial trial of the saw by its light weight, length of cutting stroke & finally by its overall quality. For me, an entirely successfull purchase & therefore my thanks go to Woodlore.
Share your opinion!
Let other people know your thoughts on this product.
Sorry, your notification details are not valid
We require both your name and a valid email address.
Sorry, your notification details are not valid
We require one or more sizes, your name and a valid email address.
Thank you
Your re-stocking notification has been accepted.
Item Added to Basket
x Ray Mears Folding Buck Saw added