Shipping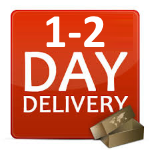 Delivery in 1-2 days within the United Kingdom
UK Orders placed before 2PM GMT will be dispatched the same working day
Overseas delivery times will vary depending on the destination
---
Please note that our offices are closed at weekends, so any orders placed after 2PM GMT on a Friday will not be dispatched until the following Monday.
Orders with a total value over £300.00 will be dispatched free via a next day delivery service within the UK at no extra cost.
Please note that in some instances, orders for heavy items may take an extra day to arrive.
---
Overseas deliveries
For overseas deliveries, please refer to the following estimated delivery times:
Europe: 3 - 5 working days
Rest of the world: 5 - 7 working days
Returns
A full refund or exchange will be given provided that the items have not been worn or used, and are returned to us within 14 days of purchase, together with all relative labels and packaging. You are responsible for the cost of returning items.
Please ensure that you include a copy of your invoice, along with an explanation of why you have returned your goods. If you wish to return your goods for any reason, please do so to the following address:
Woodlore Limited
PO Box 3
Etchingham
East Sussex
TN19 7ZE
United Kingdom
Reviews
---
1 of 14

Does exactly what it says on the tin.
2 of 14

I am pleased with this purchase. The fire stick is a convenient size too.
Tony Delany
8th April, 2016
3 of 14

You know the quality is there when you buy items like this. It's a very nice item and box, a perfect gift. It sparks first time, every time; a great fall-back device when the matches are wet and the lighter is out of fuel.
4 of 14

I purchased this as a present for my son who lives on New Zealand's South Island; an avid outdoors man and camper. He says it's the best piece of equipment for fire lighting that he has ever owned. The quality is second to none and has never let him down. A first class piece of kit that was ordered with the presentation box; a lovely little touch. I would highly recommend this for yourself, or as a present; you will not be disappointed.
Paul Kitchenham
6th December, 2015
5 of 14

Works every time without fail, unlike other models I have had. Works with the provided metal, but much easier with the back of your knife.
David Starkey
1st December, 2015
6 of 14

Excellent quality, fire lit within seconds.
Kerry Redfern
4th June, 2015
7 of 14

Excellent bit of kit. Works a treat and in a good presentation box for a present.
Joe Thet
4th November, 2014
8 of 14

Awesome firesticks. The flame you get is noticeably better than other brands in the UK, particularly when using the top edge of a knife. Got this with box for my dad, great present!
Steve, Kent
23rd February, 2014
9 of 14

Fun way to start a fire, no more worrying about wet matches.
Craig Davis
18th June, 2013
10 of 14

A very well presented firesteel, the box makes it perfect for a gift and I think my dad will be happy with it come Christmas Day. I made my own version of the belt clip sold by Woodlore to add a personal touch. All in all a great quality product (I've had one myself for many years).
Jamie Dakota
14th December, 2012
Share your opinion!
Let other people know your thoughts on this product.
Sorry, your notification details are not valid
We require both your name and a valid email address.
Sorry, your notification details are not valid
We require one or more sizes, your name and a valid email address.
Thank you
Your re-stocking notification has been accepted.
Item Added to Basket
x Ray Mears Fire Stick with Presentation Box added