Shipping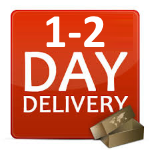 Delivery in 1-2 days (within UK)
Orders placed before 2PM GMT will be dispatched the same working day
Overseas delivery times will vary depending on the destination
---
Please note that our offices are closed on weekends, so any orders placed after 2PM GMT on Friday will not be dispatched until the following Monday.
Orders with a total value over £300.00 will be dispatched free via a next day delivery service within the UK at no extra cost.
Please note that in some instances, orders for heavy items may take an extra day to arrive.
For overseas deliveries, please refer to the following estimated delivery times:
Europe: 3 - 5 working days
Rest of the world: 5 - 7 working days
Returns
A full refund or exchange will be given provided that the items have not been worn or used, and are returned to us within 14 days of purchase, together with all relative labels and packaging.
Please ensure that you include a copy of your invoice, along with an explanation of why you have returned your goods. If you wish to return your goods for any reason, please do so to the following address:
Woodlore Limited
PO Box 3
Etchingham
East Sussex
TN19 7ZE
United Kingdom
Product Reviews
1 of 24

Great knife, handle could be a bit bigger.
2 of 24

This is a great quality blade. I had been wanting it for ages and now that I have it I am not disappointed. It's nicely crafted and now the only thing is I'm itching to get a handle made for it! Considering getting a second one to use for fishing too, it's that good.
3 of 24

A great service, fast delivery. This is the first knife that I've made myself and soon found there's a lot of work involved. This has been a great project and a learning curve. I will post some pictures on the blog in the near future. The blade has a nice finish and I look forward to getting outdoors and putting it to use. Thanks again Woodlore Team.
4 of 24

Lovely piece of craftsmanship and very impressed with the speed of delivery. Excited to get started in the handle!
5 of 24

I bought this blade for my son. It's beautifully crafted and he was delighted with it.
6 of 24

Beautiful knife. Wonderful and such a great price. Customer service is second to none.
7 of 24

Very nice; looking forward to making a handle and more for this. May get a gift for a friend too.
8 of 24

Hello to all and a special hello to one of my idols, Mr. Ray Mears. My Julius Pettersson knife arrived in the mail in a very timely manner which I was very pleased about. as for the knife itself, the quality of the blade is exquisite and the edge is a strong razor (i actually shaved with the blade and it worked great. the fact that I have to make my own handle is terrific. I will know this knife better than any other I have owned because I have a hand in the making and completion of this knife. I will post on the blog when I have finished and filed the handle along with pics of the process in making it. Thanks again. It is wonderful to own a worthy bushcraft knife that i can take on all my trips that i can rely on (it carves and batons through wood like it was butter.
Will The Archangel Miller
9 of 24

I am extremely happy with the Julius Pettersson knife. I like the width and the rugged finish it has to it. The only change I would make to this knife if I were to order a special one-off is that I would ask for a slightly wider tang to add a bit more weight to it. But that is just a slight personal preference and it could be compensated by a hevier choice of material for the handle. Overall, for what it is and the cost, I am over the moon with it.
10 of 24

Another superbly crafted item by Julius, have bought a few so far and have made handles, love them. A knife I just love to use, thanks Julius and Ray.
Share your opinion!
Let other people know your thoughts on this product.
Sorry, your notification details are not valid
We require both your name and a valid email address.
Sorry, your notification details are not valid
We require one or more sizes, your name and a valid email address.
Thank you
Your re-stocking notification has been accepted.
Item Added to Basket
x Julius Pettersson Hand Forged Knife Blade added