Shipping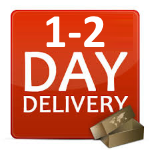 Delivery in 1-2 days (within UK)
Orders placed before 2PM GMT will be dispatched the same working day
Overseas delivery times will vary depending on the destination
---
Please note that our offices are closed on weekends, so any orders placed after 2PM GMT on Friday will not be dispatched until the following Monday.
Orders with a total value over £300.00 will be dispatched free via a next day delivery service within the UK at no extra cost.
Please note that in some instances, orders for heavy items may take an extra day to arrive.
For overseas deliveries, please refer to the following estimated delivery times:
Europe: 3 - 5 working days
Rest of the world: 5 - 7 working days
Returns
A full refund or exchange will be given provided that the items have not been worn or used, and are returned to us within 14 days of purchase, together with all relative labels and packaging. You are responsible for the cost of returning items.
Please ensure that you include a copy of your invoice, along with an explanation of why you have returned your goods. If you wish to return your goods for any reason, please do so to the following address:
Woodlore Limited
PO Box 3
Etchingham
East Sussex
TN19 7ZE
United Kingdom
Product Reviews
1 of 30

Product as expected my partner loves the book thanks
Kate Severdova
13th March, 2017
2 of 30

I absolutely love this book. It's packed full with bushcraft knowledge and inspiration. The book covers a lot of aspects of bushcraft and I love how the native people of the Boreal forest are highlighted. The reader also receives helpful tips on what to look for when buying certain gear and this is very helpful since there's a lot of choices out there (different materials etc). I live in Sweden and could have bought it from a local merchant but then it would not have been signed by Ray Mears. Of course I spent extra money on getting it shipped here just for that. This is a great buy.
Erik Nilsson
12th March, 2017
3 of 30

Bought Ray and Lars' book Out on the Land. Superb production values. Fascinating read. Very much an instructional book. Dense. Full colour. Delighted with it and thoroughly recommend but a coffee table book rather than a field guide.
Richie Conroy
3rd March, 2017
4 of 30

This book is very well put together with lots of great outdoor information for your adventures. Very nicely illustrated. You won't be disappointed as this information can be used anywhere in the world in your travels.
Trunord Compass Gg Satre Usa
24th February, 2017
5 of 30

Just what you'd expect from Ray - brilliant! Informative, clear pictures - can't praise it enough.
Denise Ruffell
4th January, 2017
6 of 30

The book exceeded all my expectations. Flawless shipping as always. Arrived in time for Christmas. A resource to be treasured for many years.
Jeff H
30th December, 2016
7 of 30

My husband loves the book, thank you.
Borsos Imola
27th December, 2016
8 of 30

I enjoyed reading Out On The Land and devouring the many beautiful photographs it contains. What really makes it a stand out book for me is I have returned to it several times seeking out the gems of information contained within.
T C Clyne
26th December, 2016
9 of 30

Becoming a favourite. Not portable or a field guide, but a book to be cherished by the fireside with a dram. Now it's getting cold (in UK), I am enjoying this more focused and informative book on the boreal forest. Some great images, opinions and thoughts from the authority. Thank you both.
Anthony Chadwick
30th November, 2016
10 of 30

Excellent Book!!
S A Tittley
21st November, 2016
Share your opinion!
Let other people know your thoughts on this product.
Frequently Asked Questions
Answers to frequently asked questions on this item can be found here. If you have a question about this product, please contact us.
Sorry, your notification details are not valid
We require both your name and a valid email address.
Sorry, your notification details are not valid
We require one or more sizes, your name and a valid email address.
Thank you
Your re-stocking notification has been accepted.
Item Added to Basket
x Out on the Land by Ray Mears and Lars Falt - Signed Copy added