Shipping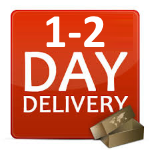 Delivery in 1-2 days (within UK)
Orders placed before 2PM GMT will be dispatched the same working day
Overseas delivery times will vary depending on the destination
---
Please note that our offices are closed on weekends, so any orders placed after 2PM GMT on Friday will not be dispatched until the following Monday.
Orders with a total value over £300.00 will be dispatched free via a next day delivery service within the UK at no extra cost.
Please note that in some instances, orders for heavy items may take an extra day to arrive.
For overseas deliveries, please refer to the following estimated delivery times:
Europe: 3 - 5 working days
Rest of the world: 5 - 7 working days
Returns
A full refund or exchange will be given provided that the items have not been worn or used, and are returned to us within 14 days of purchase, together with all relative labels and packaging. You are responsible for the cost of returning items.
Please ensure that you include a copy of your invoice, along with an explanation of why you have returned your goods. If you wish to return your goods for any reason, please do so to the following address:
Woodlore Limited
PO Box 3
Etchingham
East Sussex
TN19 7ZE
United Kingdom
Product Reviews
1 of 4

Brilliant tool. Does everything claimed for it.
2 of 4

As usual, the order was delivered promptly and was very well packaged. The Parang itself truly is a piece of art. I have used it on three days out, so far, and have found it to be very well made, uses have included chopping undergrowth, chopping kindling, fire lighting, it was even sharp enough out the box to make feather sticks for the early part of the fire-lighting process, and is still as sharp now as the day I bought it. This is going to be a piece of kit that you will pass down through the generations. Thank you Woodlore.
Haydn Thomas
10th May, 2016
3 of 4

Brilliant quality. Very pleased.
4 of 4

As expected from the team at Woodlore, a well put together piece of kit. Many thanks.
Share your opinion!
Let other people know your thoughts on this product.
Sorry, your notification details are not valid
We require both your name and a valid email address.
Sorry, your notification details are not valid
We require one or more sizes, your name and a valid email address.
Thank you
Your re-stocking notification has been accepted.
Item Added to Basket
x MY Parang Duku Chandong - 10 Inch added