Shipping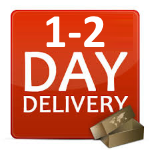 Delivery in 1-2 days (within UK)
Orders placed before 2PM GMT will be dispatched the same working day
Overseas delivery times will vary depending on the destination
---
Please note that our offices are closed on weekends, so any orders placed after 2PM GMT on Friday will not be dispatched until the following Monday.
Orders with a total value over £300.00 will be dispatched free via a next day delivery service within the UK at no extra cost.
Please note that in some instances, orders for heavy items may take an extra day to arrive.
For overseas deliveries, please refer to the following estimated delivery times:
Europe: 3 - 5 working days
Rest of the world: 5 - 7 working days
Returns
A full refund or exchange will be given provided that the items have not been worn or used, and are returned to us within 14 days of purchase, together with all relative labels and packaging. You are responsible for the cost of returning items.
Please ensure that you include a copy of your invoice, along with an explanation of why you have returned your goods. If you wish to return your goods for any reason, please do so to the following address:
Woodlore Limited
PO Box 3
Etchingham
East Sussex
TN19 7ZE
United Kingdom
Product Reviews
1 of 13

Light and easy to flick, if you have the right wrist action.
2 of 13

Amazing small carving knife ....this in not a knife to baton a wood (even though I did it with a small piece of wood and it worked great!) Its' an amazing little carving knife. I personally don't like the jimping on the bushcraft knives, but the jimping on this blade is just perfect and it gives you the perfect grip. Edge retention is AMAZING and the locking system is one of the best you can find in filing knives. All in all its' a great knife and I can not say anything bad about it. I wish the price was slightly lower but I know that Woodlore team do their best to keep the pricing at the minimum they can.
3 of 13

This is a very good backup knife for bushcraft, camping, fishing, hunting, etc. It is well built, sturdy and has just the right blade size. The handle may look a little odd but its very ergonomic and a pleasure to hold. This is a no nonsense tool that is designed for use and not for looks. S30V steel is very abrasion resistant, the edge holds very well, you should use diamond sharpening tools though because trying to sharpen this knife on a normal stone would be a strenuous task. This is the right kind of knife for people who actually use the knifes they buy.
4 of 13

This knife is top notch. The collaboration between Spyderco and Ray needs to continue! While it is smaller than I expected, it fits nicely in the hand. It is also very easy to work with and cuts through everything I have thrown at it like butter. The scales have a nice texture to them, not too rough and not too smooth, just right. My favorite feature is the locking mechanism and its placement on the knife as it is out of the way while you are working with the knife. If you are looking for a solid EDC/Bushcraft folder, this is the knife to have. Ray designed one heck of a knife.
5 of 13

It's a wonderful small knife. Razor sharp. I need it for hunting. It's good to handle.
6 of 13

Awesome little knife, outstanding quality. Great knife for carving and wood crafts. Really pleased with this purchase and first class service from Woodlore as always.
7 of 13

Great knife - it's a fantastic backup blade for outdoors. Comes from a collaboration between real giants! Size is comparable to other Spyderco popular models like Delica 4 or Calypso Jr., or folders by EnZo. Fit and finish are top notch, all mechanics and ergonomics work perfectly.
8 of 13

I have used and assessed the WolfSpyder Knife for just over 2 months while working on Woodlore courses. Generally I have been reluctant to use folding knives, due to the temptation to use them, for heavy or unsuitable work. But this is a very good and capable tool when used for the right application. I like its compact size and very strong clip that holds it securely in your trouser or shirt pocket. It is easy to access and open with one hand, leaving the other hand free, to hold onto the work. The blade has a very positive lock in the open position. For me this is important as one weakness of many folding knives is the possibility of the blade closing when you least want it to! The blade hinge is strong and secure with no play. In use, the single bevel edge and compact blade is ideal for small carving projects and finishing fine detail. It holds a very good edge when sharpened correctly. The back of the knife blade has a clean right angle edge that works very well with the Fire Stick giving powerful and long lasting sparks, ideal for lighting suitable tinder. Constructed is stainless steel with G10 scales makes this knife great to use in wet conditions or food preparation as it is not prone to rust or corrosion. I have also enjoyed using it to eat a steak on a cutting board, and it sliced through like butter. This is a great second knife and I am very pleased with it.
9 of 13

If you haven't purchased this knife yet, go ahead and hit the buy button. I had to order this knife from Woodlore and have it shipped over to the US because there are no stateside vendors. Boy, am I glad I did! I don't have a knife in my collection that matches how well the scandi grind on the WolfSpyder cuts. I went through my entire garage cutting boxes with absolutely no wear to the edge. I seriously can't find a negative thing to say about this knife.
10 of 13

Being a huge Spyderco Fan since the 90s and even a bigger fan of Raymonds shows since they were boradcasted on BBC Prime in France back in the 90s, I have been waiting for this encounter for quite a long time. Many of my knife reviews have been focused on folding knives reliable for bushcraft. Long story short: I have collected a lot of Spyderco knives. For me knives are tools for creation and creativity. As an early adopter, the Wolfspyder has been in my pocket since its release. IMHO this is the best implementation of the Spyderco Compression Lock. This suits me perfectly. I love the guard and the horn. The handle fits my grip perfecty. I do have concerns about a scandi grind on S30V as I have in the past ruined the finish on my other Bushcraft knives, but so far so good as by using a brown and white ceramic flat stone I have kept my Wolfspyder razor sharp. This is a very strong blade in a very compact solution. Also I was concerned about how it was clipped in my pocket, but it is really easy to draw. The closing of the blade is done by releasing the lock and using a gentle flick of the wrist. Easy to clean. Easy to keep sharp. Strong and reliable lock. This is little wonder and I'm looking forward to reading Ray tips and design explanation about this knife. FYI I also own Benchmade, Chris Reeve, Rockstead, Opinel, SAK, ESEE many models. I have a passion for short fixed blades. One day I hope to own a Woodlore Knife but my heart has been stolen by a Pekka Tuominens.
Share your opinion!
Let other people know your thoughts on this product.
Frequently Asked Questions
Answers to frequently asked questions on this item can be found here. If you have a question about this product, please contact us.
Sorry, your notification details are not valid
We require both your name and a valid email address.
Sorry, your notification details are not valid
We require one or more sizes, your name and a valid email address.
Thank you
Your re-stocking notification has been accepted.
Item Added to Basket
x Spyderco Ray Mears WolfSpyder Knife added