Shipping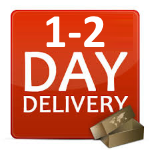 Delivery in 1-2 days within the United Kingdom
UK Orders placed before 2PM GMT will be dispatched the same working day
Overseas delivery times will vary depending on the destination
---
Please note that our offices are closed at weekends, so any orders placed after 2PM GMT on a Friday will not be dispatched until the following Monday.
Orders with a total value over £300.00 will be dispatched free via a next day delivery service within the UK at no extra cost.
Please note that in some instances, orders for heavy items may take an extra day to arrive.
---
Overseas deliveries
For overseas deliveries, please refer to the following estimated delivery times:
Europe: 3 - 5 working days
Rest of the world: 5 - 7 working days
Returns
A full refund or exchange will be given provided that the items have not been worn or used, and are returned to us within 14 days of purchase, together with all relative labels and packaging. You are responsible for the cost of returning items.
Please ensure that you include a copy of your invoice, along with an explanation of why you have returned your goods. If you wish to return your goods for any reason, please do so to the following address:
Woodlore Limited
PO Box 3
Etchingham
East Sussex
TN19 7ZE
United Kingdom
Reviews
---
1 of 9

Very good Gransfors axe.
2 of 9

Beautifully weighted, perfectly shaped and extremely sharp. I needed to clear 30 year old ivy from the trunks of a line of Ash trees, and this tool was the perfect tool for the job. Cuts clean as a whistle, no wrist ache, no awkward swing, a triumph of form and function. Highly recommended, and worth every penny. Mine's forged by TT.
Mark Studden
25th June, 2017
3 of 9

Wow this axe is deceptively light considering its size. It is so easy to wield and its performance is awesome. I've applied boiled linseed oil to the handle as per Gransfors recommendations and the handle feels even better in the hands. I strongly recommend this tool. Superb service from Woodlore. Cheers.
David Angus
22nd June, 2017
4 of 9

Great piece of kit. So tactile, so sharp, so beautiful. It is a joy to hold and to use. I find myself seeking out more stuff to chop up.
Adam Getliff
16th June, 2017
5 of 9

Great product, a lovely addition to my kit and looking forward to making a bow next year. The axe blade is very sharp, it actually cut through the leather protector when I returned it back after initial inspection.
Mark Cavalier
15th June, 2017
6 of 9

Great axe for small tree limbing and wood work while at home or out in the field.
7 of 9

I bought this axe for my husband who loves it. It is beautifully crafted and truly the best quality axe there is on the market. Perfect for chopping kindling and light forestry. We love the beautiful leather sheath that it comes in.
Rita W-w
8th January, 2017
8 of 9

I recently purchased the Gransfors Bruks Small Forest Axe, and thought I'd spend a couple of nights up in the mountains to test it out. Upon first inspection, I noted the flawless design, beautiful handiwork, and it was razor sharp. The handle felt like it had been crafted for my hand, and while light enough to hook in my belt or store in my pack, it was weighted enough for some serious work. As it's winter here, that just what it did. Three days of splitting, chopping and carving and the edge is still a razor. The axe is so maneuverable that I barely pulled my knife out of its sheath. As someone who spends a lot of time in the bush, this is by far the best piece of equipment in my kit. I've always had axes, but this axe is more than just a peerless tool. It's a work of art. As a side note, the customer service I received was second to none. The response time to my e-mails and the updates of the shipping services to Australia were fantastic. I am one very happy camper.
James Mcdonald-jones
15th August, 2015
9 of 9

Amazing quality as always from Woodlore and Gransfors. Have used the axe a lot since receiving it for wild camping and carving. Couldn't be happier, thank you very much.
David Slater
7th August, 2015
Share your opinion!
Let other people know your thoughts on this product.
Frequently Asked Questions
Answers to frequently asked questions on this item can be found here. If you have a question about this product, please contact us.
Sorry, your notification details are not valid
We require both your name and a valid email address.
Sorry, your notification details are not valid
We require one or more sizes, your name and a valid email address.
Thank you
Your re-stocking notification has been accepted.
Item Added to Basket
x Gransfors Bruks Small Forest Axe with Gransfors Logo added