Bushcraft Courses
New and Coming Soon
At Woodlore we work tirelessly to offer new courses and expeditions to you. Maintaining our high standards means it takes time to be able to offer a new course, therefore on this page we give a preview into what's coming so that you can prepare for some of these incredible opportunities for adventure. We sincerely hope that you are as enthused and excited about these forthcoming events as we are here at Woodlore.
With such a large variety of outstanding courses now on offer we have also provided details of courses which have recently become available to book. These have undergone the fastidious planning our clients have come to expect and which Woodlore is proud to offer.
Please note, if you are interested in booking any of the
Coming Soon
courses shown below, please click on the course you are interested in and then sign up to be notified by email when bookings can be made.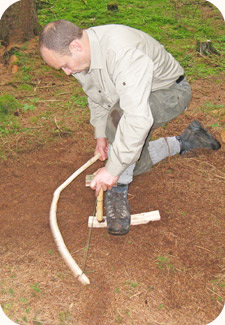 This special version of our keystone course will take us to the edge of the Taiga; the forest that cloaks the northern most part of our planet. The course will follow our normal comprehensive syllabus but allow us to go deeper into some of the more specialist skills taught. The practicalities of obtaining wild food will be a key focus for us. The location and time of year mean that dressing appropriately and being thorough in your learning and efforts will be essential.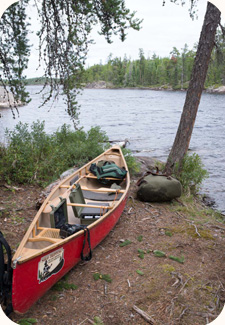 You are invited to join me on a very special expedition to discover the magic of the boreal forest in late summer.
Our journey will take us through some of the most stunning wilderness to be found in Northern Ontario, Canada. There is of course only one choice of transport here, the most perfect craft ever invented for travelling in the northern wilderness, the Canadian Canoe.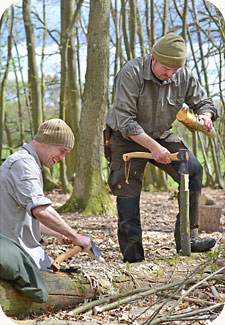 On our
Fundamental Bushcraft course
we make extensive use of the knife and the small folding saw, neither of which weigh very much but offer us great utility while on the trail. In the Campcraft course we learn to use the axe, partnering it with a larger bow- or buck-saw. In bushcraft, the axe comes into its own on serious expeditions in temperate and particularly boreal forest, whether you are traveling by foot, canoe, snow-shoe, ski or snow-machine.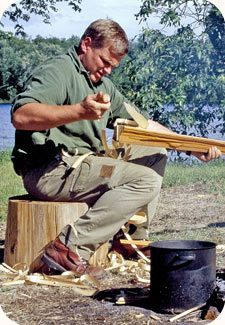 Carving is one of the great pleasures of the forest. A practical skill that unlocks the true potential of knife, axe and saw, it can take years to master but only moments to enjoy the simple satisfaction gained from working the grain of our most treasured resource: the fabric of the woodland itself. Learning these ancient skills from Ray Mears, a true woodsman and expert of over forty years practice is an opportunity not to be passed by.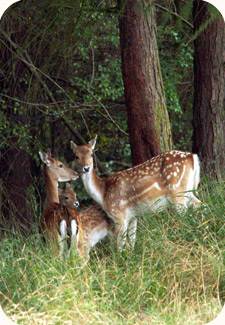 Time is a rare and precious commodity in modern life and sharing wonderful experiences as a family is one of life's essentials. What better way to accomplish that than by witnessing the diversity of British wildlife together as you are guided through the beautiful woodlands of Sussex by those who know their secrets best. Escape the normal hustle and bustle and let your senses tune in to the sights and sounds of the forest.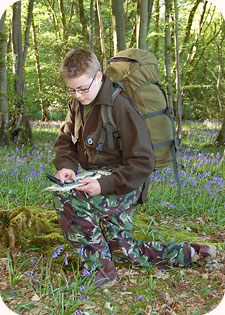 The aim of the Junior Expedition Skills course is for budding young Bushcrafters to take their skills and knowledge further, giving them the tools to be competent and confident in the great outdoors.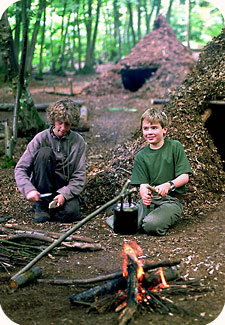 The main aim of this course is to encourage youngsters to live in natural surroundings comfortably and with confidence. Above all we aim for students of this course to have fun while they are learning basic Bushcraft skills.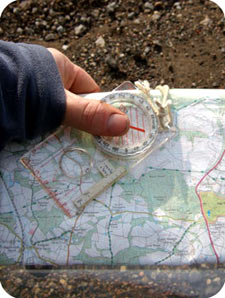 Navigation is one of the most challenging outdoor skills and is undeniably one of the most vital. It requires patience, observation and practice, but once mastered offers a skill to be proud of. Typical to the Woodlore philosophy, we will tackle the most difficult aspect of navigation head on and you will find yourself navigating unerringly through thick woodland by both day and night.
What do you see when you walk amongst the trees of our ancient forests? When you go there, are you part of its life or just passing through? Are the trees and herbs trusted allies or shadowy strangers? Can you rely upon them to show you the way home, give you food, water and fire or tell you where the deer will browse in the evening? This is the forest through the eyes of master woodsman Ray Mears and this remarkable journey in his company will enlighten, enchant and change the way that you perceive the natural world forever.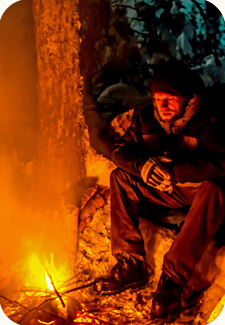 You are invited to accompany Ray Mears and Woodlore in the vast, unspoilt landscape of Northern Ontario, to witness the stark beauty of an area that has been home to the Anishinaabe people for thousands of years and to learn the essential skills of the Northern winter. Far, far away from roads, fences and power lines, you will experience mother nature in her winter dress and as you learn to work with her you will gain a powerful sense of liberation; a sense that will leave you yearning to return.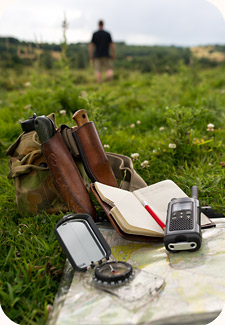 Designed for those who have attended one of our tracking courses in the past, this exciting three day course provides a superb opportunity to re-cap on your tracking knowledge and put your skills to the test in a realistic way.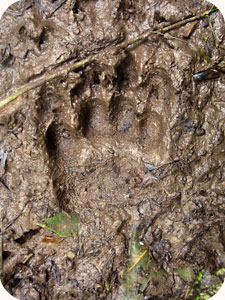 Tracking is probably the most important skill in bushcraft as the skills that it develops feed back into everything that we do. From foraging for materials, wild food or enjoying wildlife, to following the trail of a wild animal or human being. It is also one of the most exciting skills and definitely the most challenging.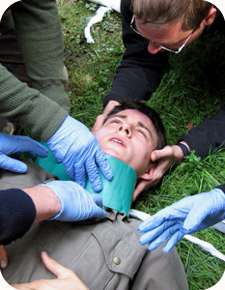 Taking you way beyond the normal first aid experience, the Woodlore Wilderness First Aid course provides an unforgettable journey into this vital wilderness skill. Outstanding teaching and fast paced, realistic scenarios will keep the adrenaline flowing and ensure that your knowledge stays with you. Tempered by your successes and failures, you will feel confident to stand up and be counted whenever the time comes.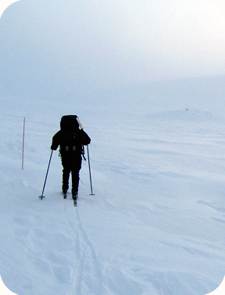 Cross-country skiing is one of the most exilarating means of travel known to man. It is also incredibly good exercise and gives the skier an enormous sense of freedom. Your heart pounds as you dig your skis in and heave yourself to the top of the escarpment before letting yourself effortlessly accelerate along hundreds of meters of hard packed snow, enjoying the scenery until the last of the momentum wears off. This is a feeling that you look forward to when you're skiing and can be likened to the anticipation and thrill of approaching and running a rapid in a canoe.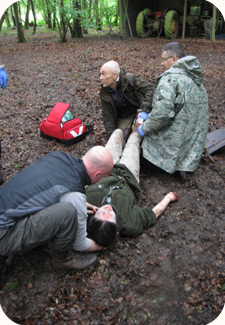 As with all skills, whether fire lighting, navigation or carving, practice makes perfect. First aid is certainly no different. It is advised that an annual refresher course is carried out in order to keep lifesaving skills up to date but sometimes that is not always possible. A First aid at Work certificate should be renewed every 3 years and that is just one benefit to doing this course. Your employer may even contribute towards the course as it would benefit them also.