Item Added to Basket
x Fallkniven DC4 Diamond/Ceramic Whetstone added
Further Information
The Fallkniven DC4 Diamond Ceramic Whetstone is a popular combination whetstone made for accurate knife sharpening in the field. Small and lightweight, the DC4 is ideal for keeping on you when travelling by foot. For a more compact whetstone, take a look at the Fallkniven DC3 or, for a larger whetstone, the Fallkniven DC521.

The DC4 features two different sharpening surfaces; one is a fine diamond whetstone of 25 micron, while the other is a fine ceramic whetstone, made of synthetic sapphires. If your knife is dull, it is recommended that you begin by using the diamond side, which will restore the wedge shape of the blade's edge. Following this, you can de-burr the edge lightly using the ceramic side, in order to get a razor-sharp edge.

The DC4 is a very low-maintenance tool in the sense that it can be used dry, without the need for any lubrication from oil or water. Every now and then, it is recommended that you simply clean the stone in warm, soapy water.

A major benefit of the DC4 is that, while the stone will become worn over time, the sharpening surfaces will remain flat, helping to aid efficient sharpening. The supremely strong surfaces can be used to sharpen any type of steel, including hard powder steels. At first, the sharpening surfaces may feel overly coarse, but this initial roughness will diminish after use.

After sharpening your knife, Woodlore recommend the use of Ice Bear Camellia Oil to protect the blade from rust and corrosion.

Details:
Dimensions: 100 x 32 mm
Weight: 65 g
Leather sheath included
Exclusive Ray Mears Bushcraft logo embossed on sheath
Shipping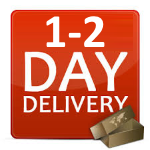 Delivery in 1-2 days (within UK)
Orders placed before 2PM GMT will be dispatched the same working day
Overseas delivery times will vary depending on the destination
---
Please note that our offices are closed on weekends, so any orders placed after 2PM GMT on Friday will not be dispatched until the following Monday.
Orders with a total value over £300.00 will be dispatched via a next day delivery service within the UK at no extra cost.
Please note that in some instances, orders for heavy items may take an extra day to arrive.
For overseas deliveries, please refer to the following estimated delivery times:
Europe: 3 - 5 working days
Rest of the world: 5 - 7 working days
Returns
If you wish to return your goods for any reason, please do so to the following address:
Woodlore Limited
PO Box 3
Etchingham
East Sussex
TN19 7ZE
United Kingdom
A full refund or exchange will be given provided that the items have not been worn or used, and are returned to us within 14 days of purchase, together with all relative labels and packaging. Please ensure that you include a copy of your invoice, along with an explanation of why you have returned your goods.
Product Reviews
Sorry, we cannot review this item
This code is for an order that has not been shipped. It cannot yet be reviewed. Please wait until your order has arrived before reviewing it.
Sorry, that purchase code could not be found
Your purchase code was not valid. Please ensure the code is correct and that it is not for a Woodlore Course or Voucher.
Sorry, your notification details are not valid
We require both your name and a valid email address.
Sorry, your notification details are not valid
We require one or more sizes, your name and a valid email address.
Thank you
Your re-stocking notification has been accepted.