Bushcraft Courses
Courses with Ray Mears
Ray Mears
is one of the few true outdoor legends, who for nearly 30 years has been running courses in the UK and overseas, sharing his knowledge with those who have sought to learn more about our unique world. It is often said that before Woodlore, there was no Bushcraft in the UK.
During Woodlore's near 30-year history, Ray has led courses in many diverse environments, including the Arctic, jungle, rainforest and desert. During these travels, Ray has been fortunate enough to spend time with some of the world's last remaining indigenous peoples, in some of the remotest places on the planet. Tracking has long been a passion of Rays and with 40 years dedicated to the study and interpretation of sign, Ray brings a unique wealth of knowledge of this specialist skill to the team.
Quietly spoken, Ray is recognised worldwide as a true master of the outdoors. Having spent the majority of his life learning to be at home in places others describe as hostile, he has unparalleled experience and in-depth knowledge. It is this that enables Ray to design, develop and lead exciting expeditions for Woodlore. Ray continues to work tirelessly to share his understanding so that others may "drink from the well of bushcraft".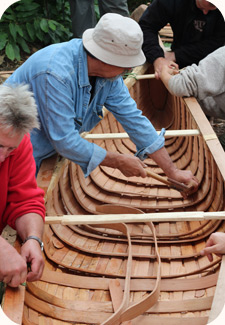 Join us in celebrating Woodlore's 30th Anniversary by building one of the greatest crafts ever made by man.
During this special one-off course exclusive to our anniversary year you will be guided by Ray Mears and Pinock Smith, an Algonquin Indian canoe builder whose knowledge has descended directly from the master canoe builders of the past. He is featured in the Birch Bark Canoe episode of
Ray Mears Bushcraft Survival Series 2
and together they will guide a small group of students through the entire process of building this truly beautiful and historic craft. During the course the group will all help to build one canoe.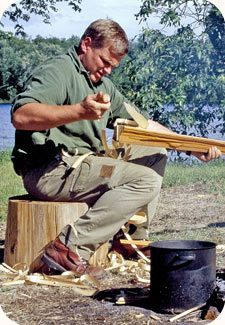 As part of our 30th anniversary celebrations we are very pleased to offer you a special new opportunity to learn carving skills from the expert woodsman, Ray Mears. Throughout this memorable day, Ray will guide you through various techniques and tips that he has accumulated over the past forty years and will help to improve your level of skill and safety with your cutting tools.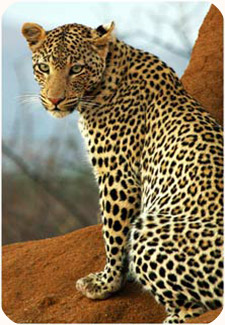 Join Ray Mears and Woodlore for an amazing course and an adventure of a lifetime. You will experience the bush in a way that is offered nowhere else.
This special course will take you to the oldest part of Africa and will allow you to interact with it in a very unique way. It is likely you will be following tracks through the very dust that the first human being did, thousands of years previously.
Drawing on his 40 years of tracking experience, Ray will open your eyes to this fascinating and ancient art. Together you will locate and interpret the signs and traces left behind by wild creatures in the stunning African landscape.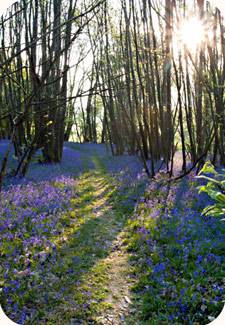 Secrets of the forest - look deep into the forest and what can you see? Trees, bushes, birds, plants and what else? Walking in the woods with Ray is one of the most fascinating experiences you can encounter. What just seemed to be the woods becomes an enchantment and an historic enlightenment, as he takes you back to how our ancestors lived in harmony with their surroundings telling stories as he goes.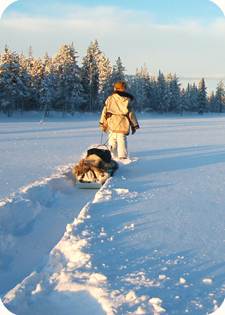 Around the northern hemisphere runs a vast forest – the Taiga. An almost continual belt from North America to Eurasia, the Taiga covers much of Sweden, Finland, inland Norway, northern Kazakhstan and Russia (particularly Siberia), most of inland Alaska and Canada as well as northern parts of the US. The Taiga is the single largest community of trees and associated animals – or 'biome' - on the planet. Characterised by coniferous trees such as pine and spruce as well as animals such as lynx, wolf, bear, wolverine and reindeer this is an awe-inspiring wilderness.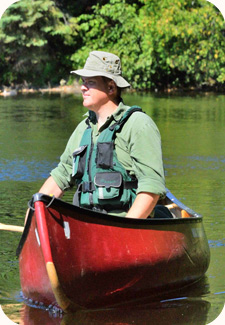 As part of our ongoing celebration of Woodlore's thirtieth year I am pleased to announce that we shall be offering a new and long awaited Woodlore Expedition. You are invited to join me on a very special expedition to discover the magic of the boreal forest in late summer.
Our journey will take us through some of the most stunning wilderness to be found in Northern Ontario, Canada. There is of course only one choice of transport here, the most perfect craft ever invented for travelling in the northern wilderness, the Canadian Canoe.