Bushcraft Courses
Fundamental Bushcraft
» Price:
£650.00
»
Course Dates
The Initiation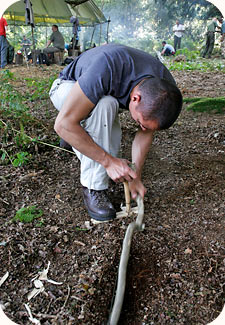 Open your eyes and step into the incredible possibilities of the natural world through the art of Bushcraft: your key to experiencing your time in the outdoors in a more fulfilling and practical way. The Fundamental Bushcraft course will change the way that you look at the world forever and equip you with a firm foundation of practical skills to use in the farthest corners of the world or on your own front doorstep.
Our syllabus has been honed over many years to introduce the widest range of skills and your days will be filled with hard work, discovery and the satisfaction of achievement and learning. Each skill is carefully explained and expertly demonstrated before you practice the technique for yourself. As new skills are acquired, you will be encouraged to apply them as we build upon what you have learned, increasing both the pace and level of challenge. The end result is self- reliance, closeness to nature and improved self- confidence in the outdoors. If you are interested in attending a shorter 2-day course please take a look at the Introduction to Bushcraft courses.
By the end of the week, a tight knit group will have been formed and lasting friendships forged by the warmth of the campfire. The final day provides a buzz of excitement as you are all given the opportunity to demonstrate your new skills and understanding in a test that is the gateway to the Journeyman course.
Challenging, thrilling and satisfying in equal measure, the Woodlore Fundamental Bushcraft course is conducted entirely outdoors in a friendly campfire atmosphere and will go ahead in all weather. No previous experience is necessary, but a reasonable level of fitness is required.
The skills that will be taught during this course include:
Firelighting, including by friction
Shelter Construction
Water Collection & Purification
Plants For food & medicine
Natural Cordage
Hunting & Trapping
Wilderness Fishing Techniques
Safe use of Cutting Tools
Looking after the land and leaving no trace
Backcountry Hygiene
Outdoor Safety
Natural Navigation
Please note this course is also being run in Scotland
This course starts at 17:30 on Sunday and will finish at 16:00 on Saturday.
Catering
All meals for this course will be provided. You will not live from the land during this course although one meal will be of wild food. For the rest of the time normal meals will be provided, allowing each student the opportunity to do some backcountry cooking, therefore if you have special dietary requirements please let us know on your consent form or contact the office.

We provide a kettle, tea, coffee, squash and biscuits in a brew box at the main camp fire of the course, under a large parachute. We also have fresh drinking water and a fruit bowl available.

Course Site
The Fundamental Bushcraft course will take place at an expedition style camp in East Sussex, close to Tunbridge Wells. The camp is situated in beautiful private woodland with no public access with lots of wildlife including deer, owls, badgers, fox and butterflies. We do not have shower/toilet blocks at our sites, therefore all aspects of the course will have a fantastic wilderness feel, using a screened camp shower and a screened latrine in the woods.

We have a car park at the course site where you your car will be kept during the course (if you bring one).
Other Details
Joining instructions will be sent to participants of the course 9 weeks before it is due to start, giving details of where to meet, at what time, and what to bring with you. Pre-Course Information can also be found here
Once you have completed the Fundamental Bushcraft course you are able to attend the Traditional Living Skills course and if you pass the Fundamental Bushcraft course you are able to attend the Journeyman course

We invite you to have a look at a selection of course photos taken by staff and students in our photo gallery here.

Price: £650.00

Course Dates can be found below.


Course Details
Course Name:
Fundamental Bushcraft - The Initiation
Date:
31/08/2014 - 06/09/2014
Previous Location
: East Sussex
Course leader:
Brian Fox
Cost per person:
£650.00 (inc VAT)
Sorry, this course has already started. The information given above is based upon previously arranged courses and could be subject to change. Please
contact us
for more details on future courses.
Can't find a course?