Bushcraft Courses
Woodlore Wilderness First Aid
»
Prices and dates
Wilderness Emergency Medic level 2 (WEM2)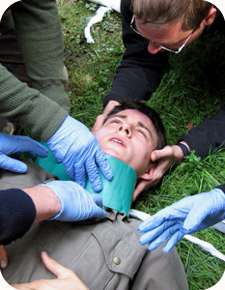 Taking you way beyond the normal first aid experience, the Woodlore Wilderness First Aid course provides an unforgettable journey into this vital wilderness skill. Outstanding teaching and fast paced, realistic scenarios will keep the adrenaline flowing and ensure that your knowledge stays with you. Tempered by your successes and failures, you will feel confident to stand up and be counted whenever the time comes.
Miles from the nearest help and faced with a medical emergency is no time to be guessing what to do. You must be able to provide for your companions when it counts. There are many things we can improvise in the field, knowledge of First Aid is not one of them. Although all of us who travel to remote regions have a duty to undertake First Aid training, the reality is that we are most likely to employ our skills in the aid of friends, family or stranger in the street; something that everyone should be able to do.
For over 30 years, Ray has been travelling in wild and remote places. This, in combination with the three decades that Woodlore has been leading the field of wilderness training and expedition, gives us a unique insight into what you really need to know whether you are here or in the remotest corners of the world. Moreover we have learned what type of first aid training really works!
Taking Ray and the Woodlore team's experience, we joined up with Solo Medical Training Ltd, to develop a unique course aimed specifically at the wilderness traveller. As a provider of First Aid training, Solo Medical Training brings expertise and a wealth of experience in pre-hospital care based in the hard realities of first hand experience.
Realistically based around what can be practically carried, you will be shown what you need to know about dealing with a multitude of injuries and medical conditions. As your skills develop, they will be applied in real-world scenarios with realistic casualty simulations. This is real training for people who want to confidently cope with emergencies.
On successful completion of the course you will be awarded an HSE First Aid at Work certificate as well as gaining more advanced First Aid training and knowledge.
Topics covered on the Woodlore Wilderness First Aid course include:
First Aid Kit - what to carry and what not to carry
Improvised Emergency First Aid Techniques
Scene Management & Communication
Emergency Signalling
Casualty Evacuation
Prevention of Disease and Infection
Environmental Injuries
Resuscitation and dealing with a casualty suffering from:-
Severe Allergic Reactions
Fractures and Dislocations
Sprains and Strains
Respiratory Problems
Wounds and Bleeding
Steri Stripping
Burns and Scalds
Defibrillator training
Epi Pens
Shock
Heart Attack and Angina
Eye, Head and Spinal Injuries
Poisoning
If your time is limited we also offer a 2-day, introductory Woodlore Emergency First Aider providing the HSE qualification in Emergency First Aid at Work upon completion.
This course starts at 17:30 on Sunday and will finish at 16:00 on Saturday.

Catering
This course is self-catering, so please bring enough food for the duration of the course and a stove to cook it on. Many clients have found in the past, bringing a cool box is useful to keep all of your food inside.

We provide a kettle, tea, coffee, squash and biscuits in a brew box at the main camp fire of the course, under a large parachute. We also have fresh drinking water and a fruit bowl available.

Course Site
The Woodlore Wilderness First Aid course will take place at an expedition style camp in East Sussex, close to Uckfield. The camp is situated in beautiful private woodland with no public access. We do not have shower/toilet blocks at our sites, therefore all aspects of the course will have a fantastic wilderness feel, using a screened camp shower and a screened latrine in the woods.
We have a car park at the course site where your car will be kept during the course (if you bring one).

Other Details
Joining instructions will be sent to participants of the course 9 weeks before it is due to start, giving details of where to meet, at what time, and what to bring with you. Pre-Course Information can also be foundhere
We invite you to have a look at a selection of course photos taken by staff and students in our photo galleryhere.
Prices and dates can be found below.


Course Reviews
Be the first to review the Woodlore Wilderness First Aid course. You must have attended the course and have a valid course purchase code to carry out your review.

If you have attended any Woodlore course, you can also review it by entering your unique course purchase code.



If you need information on

forthcoming courses

or need to know when there is a

cancellation

, please sign up to our

Mailing List

.

If you have arrived at here following a cancellation and all courses are shown as
then the place(s) have already been taken.
Course Date, Location & Price
This course is only running on one date at present
Please read our Terms & Conditions prior to booking
2013
Course Name: Woodlore Wilderness First Aid - Wilderness Emergency Medic level 2 (WEM2)
Location: East Sussex
Course leader: Jamie Cooke
Course Size: 16 (maximum)
Cost per person:

£650.00

(inc VAT)


If unaccompanied by an adult you must be over 16 to attend this course. We may allow you to attend the course if you are slightly younger and with an adult at our discretion. Please contact us for more details.