Bushcraft Courses
Woodlore Emergency First Aider
» Price:
£250.00
»
Course Dates
Wilderness Emergency Medic level 1 (WEM1)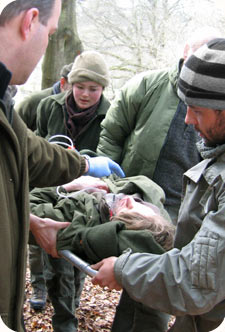 We are delighted to announce a special offer for April: 20% off all new Emergency First Aider course bookings from now until Wednesday 30th April 2014. Please call the office on 01580 819668 to make your booking
Perfect for outdoor enthusiasts, teachers and budding outdoor instructors alike, this 2-day course provides a solid introduction to the application of First Aid in the outdoors. The course deals with everyday hazards as well as those that we may face on expedition and uses exciting, scenario based training methods which immerse the participant in realistic, real life situations.
Raising awareness of risks and how to prevent incidents, this exciting and fast paced foundation course will help you to keep yourself and those in your care safe while enjoying the freedom of the outdoors wherever you may be.
Taking the Woodlore team's wilderness experience, we have joined forces with Jamie Cooke of Solo Medical Training Limited to provide the Wilderness Emergency Medic courses. Solo Medical Training is the company we use to train our own staff in First Aid and they bring a wealth of experience in pre-hospital care and First Aid training.
You will learn a range of important and useful First Aid techniques that will allow you to deal with minor scrapes to serious injuries and illnesses. Theoretical practice will be cemented by application in our infamous scenarios, ensuring that the knowledge of what to do in an emergency really sticks!
This course will be recognised by an employer as an Emergency First Aid at Work Qualification (EFAW).
The Emergency First Aider course provides First Aid training necessary for participation in various National Governing Body (NGB) awards such as Walking Group Leader Award, Mountain Leader Award (summer), Mountain Leader Award (winter), Single Pitch Award, MIA, MIC, BCU star tests, BASI and BOF.
Topics covered on the Emergency First Aider course include:
Effective First Aid kits and equipment
Dealing with an unconscious casualty (adults and children)
The Primary and Secondary assessment of an unconscious casualty
Resuscitation of both adults and children
Dealing with a choking casualty
Dealing with a casualty who is bleeding
Dealing with burns
Management of breathing problems
Dealing with a casualty who has drowned
Environmental hazards and associated conditions
Managing various types of fractures
If you would like to take your First Aid training further than Emergency First Aid, you can progress onto Woodlore Wilderness First Aid course.

This course starts at 17:30 on day 1 and will finish at 16:00 on day 3.

Catering
All meals for this course will be provided, allowing each student the opportunity to do some backcountry cooking, therefore if you have special dietary requirements please let us know on your consent form or contact the office.

We provide a kettle, tea, coffee, squash and biscuits in a brew box at the main camp fire of the course, under a large parachute. We also have fresh drinking water and a fruit bowl available.

Course Site
The Emergency First Aider course will take place at an expedition style camp in East Sussex, close to Uckfield. The camp is situated in beautiful private woodland with no public access with lots of wildlife including deer, owls, badgers, fox and butterflies. We do not have shower/toilet blocks at our sites, therefore all aspects of the course will have a fantastic wilderness feel, using screened camp shower and a screened latrine in the woods.

We also have a car park at the course site where your car will be kept during the course (if you bring one).

Other Details
Joining instructions will be sent to participants of the course 9 weeks before it is due to start, giving details of where to meet, at what time, and what to bring with you. Pre-Course Information can also be found here
We invite you to have a look at a selection of course photos taken by staff and students in our photo gallery here.

Price: £250.00

Course Dates can be found below.


Course Reviews
Be the first to review the Woodlore Emergency First Aider course. You must have attended the course and have a valid course purchase code to carry out your review.

If you have attended any Woodlore course, you can also review it by entering your unique course purchase code.



If you need information on

forthcoming courses

or need to know when there is a

cancellation

, please sign up to our

Mailing List

.

If you have arrived at here following a cancellation and all courses are shown as
then the place(s) have already been taken.
Course Date, Location and Price
This course is only running on one date at present
Please read our Terms & Conditions prior to booking
2014
Course Name: Woodlore Emergency First Aider - Wilderness Emergency Medic level 1 (WEM1)
Location: East Sussex
Course leader: Jamie Cooke
Course Size: 20 (maximum)
Cost per person:

£250.00

(inc VAT)


If unaccompanied by an adult you must be over 16 to attend this course. We may allow you to attend the course if you are slightly younger and with an adult at our discretion. Please contact us for more details.