Bushcraft Courses
Family Wildlife Walkabout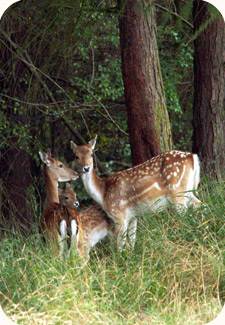 Sharing wonderful experiences as a family is one of life's pleasures, and what better way to do it than enjoying the British wildlife together in beautiful woodlands. Get away from the normal hustle and bustle and let your senses go wild!
This family course lets you and your loved ones immerse yourselves into the breathtaking English countryside, and offers a chance to experience wildlife of all kinds up close in their stunning natural environment.
This course is an essential introduction to viewing wildlife, where you will learn about habitats and eco systems, what happens at night, relationships between predators and prey and general animal behaviour. Days will have exciting early starts, as wildlife has a very enthusiastic alarm clock and there is much to see. There will also be exhilarating late finishes, as with the arrival of darkness new wildlife comes alive and, as if by magic, the surroundings look and feel a different place altogether. Plus, with the impairment of your vision, your other senses will be heightened, and you may hear noises in the silence of the woods that you have never heard before.

You will learn how to move silently through the woods in both night and day, recognise feeding signs and footprints of various animals, find animal homes and - most importantly - have fun and build special family memories whilst doing it. You will be shown how to stalk stealthily up on browsing animals and, conversely, how to view animals from a static position.

We start with the very basics and advance to studying UK wildlife in quite some detail, with there being the chance to challenge and test yourselves throughout the course. When working with wildlife that does not often read the script, you will also learn that most important of attributes for wildlife watching: patience. There will also be the chance to camp out in the wilds with your family, enjoying the warmth of your fire, sharing the sights and sounds of the forest around you.

This course will start at 17:30 on day 1 and will finish at 12:00 on day 4.

Catering
This course is self-catering, so please bring enough food for the duration of the course and a stove to cook it on. Many clients have found in the past, bringing a cool box is useful to keep all of your food inside.

We provide a kettle, tea, coffee, squash and biscuits in a brew box at the main camp fire of the course, under a large parachute. We also have fresh drinking water and a fruit bowl available.

Course Site
The Family Wildlife Walkabout course will take place at a safari style camp in East Sussex, close to Tunbridge Wells. The camp is situated in beautiful private woodland with no public access with lots of wildlife including deer, owls, badgers, fox and butterflies. We do not have shower/toilet blocks at our sites, therefore all aspects of the course will have a fantastic wilderness feel, using a screened camp shower and a screened latrine in the woods.

We have a car park at the course site where you your car will be kept during the course (if you bring one).

Other Details
Please note: Each place booked on this course is for one person only, so each course attendee must have their own booking.

Please call the office for bookings of 4 people or more for a group discount.

Joining instructions will be sent to participants of the course 9 weeks before it is due to start, giving details of where to meet, at what time, and what to bring with you. Pre-Course Information can also be found here

We also have a Family Bushcraft course for families to book, which covers many aspects of fire lighting, shelter building and recognition of useful plants and trees.

Prices and dates can be found below.


Course Details
Course Name:
Family Wildlife Walkabout
Date:
No dates in the current calendar, please sign up to be notified of new dates when they become available.
Previous Location
: Sussex
Course leader:
Dan Hume
This is a new course and is not yet available to book online. It is due to take place at a future date. Please register to be notified when we will be taking bookings.