Bushcraft Courses
Woodlore Arctic Experience
» Price:
£2995.00
»
Course Dates
Arctic Survival in Lapland, Sweden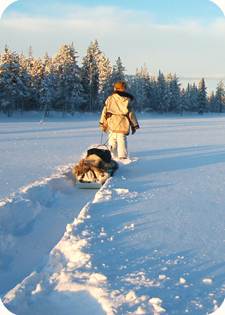 Around the northern hemisphere runs a vast forest – the Taiga. An almost continual belt from North America to Eurasia, the Taiga covers much of Sweden, Finland, inland Norway, northern Kazakhstan and Russia (particularly Siberia), most of inland Alaska and Canada as well as northern parts of the US. The Taiga is the single largest community of trees and associated animals – or 'biome' - on the planet. Characterised by coniferous trees such as pine and spruce as well as animals such as lynx, wolf, bear, wolverine and reindeer this is an awe-inspiring wilderness. During the Woodlore Arctic Experience you will have the opportunity to learn the fundamental skills of Arctic Bushcraft, allowing you to experience this environment at its best.
This special course takes place in northern Lapland, approximately 200km north of the Arctic Circle on the banks of the Kalix River. This is home to the hardy Sami people, who have traditionally made their living in this harsh place by reindeer herding.
You will be instructed by Ray Mears, who needs no introduction and Lars Falt, a man of world-renown in the field of Arctic survival and an old friend of Ray's. Lars is Sweden's foremost expert on Bushcraft and was responsible for Swedish military survival training for over forty years. In 1980 he established the Swedish Army's Survival School. As well as his military instructing, Lars has worked with indigenous peoples from Siberia to Canada. He is the author of 8 books on survival and outdoor skills. This is a rare opportunity to learn from one of the masters.
During the course, we mix ancient skills with modern equipment, just as the indigenous Sami people do. You will find yourself driving top of the range snowmobiles one day, and sleeping on a reindeer skin the next. The week is full of exciting surprises and promises to be one you'll never forget.
For this course you will need to travel to Kiruna, Sweden where you will be met and transferred by coach, then by snowmobile to the wilderness camp. You will be based in traditional log cabins, be well fed on local foods and have the opportunity to enjoy the exhilaration of a wood-fired Scandinavian sauna and snow dip!
The setting of the wilderness camp has a magical feel about it. Each log cabin can take up to five people, has a stove for heating and is lit by lanterns. The dining hall/lecture cabin has a large wood-burning stove and is also lit by lanterns. There is no electricity! The camp is surrounded by pristine Taiga with excellent opportunities to witness the Northern Lights.
We strive to ensure that this experience of the North Country is a comfortable one – certainly it will be an unforgettable adventure that will allow you to approach 'the North' with a new-found confidence.
The course price includes all return transfers from Kiruna to the wilderness camp, with full board accommodation and specialist equipment including skis, snow machines, tents and stoves.
We invite you to have a look at a selection of past course photos taken by staff and students in our course photo gallery.

Price: £2995.00

Course Dates can be found below.


If you need information on
forthcoming courses
or need to know when there is a
cancellation
, please sign up to our
Mailing List
.
If you have arrived at here following a cancellation and all courses are shown as
then the place(s) have already been taken.
Course Date, Location and Price
This course is only running on one date at present
Please read our Terms & Conditions prior to booking
2014
Course Name: Woodlore Arctic Experience - Arctic Survival in Lapland, Sweden
Location: Kiruna, Sweden
Course leader: Lars Falt and Ray Mears
Course Size: 15 (maximum)
Cost per person:

£2995.00




4 places remaining as of 12/12/2013 23:51

You need to organise your own return flights to Kiruna once you have received the recommended flight details from us. We will arrange to meet you at Kiruna Airport and return you to the Airport at the end of your course. Please ensure that you have a valid passport and EHIC card when you travel.

You must be over 18 to attend this course. We may allow you to attend the course if you are slightly younger and with an adult at our discretion. Please contact us for more information.